Thank you so much everyone for your overwhelming response and being a part of Ariel India's ShareTheLoad Movement. It is wonderful to read your stories and experiences and feels warm to know the effort that you've taken in trying to bridge the gender equality gap and helping for domestic chores at home. Truly you've proved, share the load and multiply love!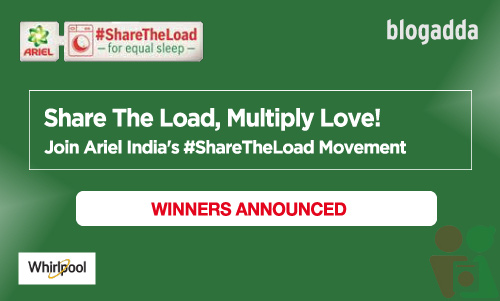 Here are the winners for this edition of #ShareTheLoad movement.

Whirlpool Washing Machine Winners
Amit C.
Parag S.

Winners of Ariel Supply for 6 months
Anu R.
Gunjan M.
Manisha G.
Chanchal B.
Sushmita B.
Pragun T.
Jennifer S.
Aparna S.
Sourabh D.
Mansi L.
Sarath B.
Ayushi K.
Snigdha P.
Bushra N.
Geetanshi A.

Winners of one Ariel Product Sample
Anjali S.
Juhita G.
Richa P.
Bhumika B.
Dixita M.
Sneyhal K.
Neha S.
Radhika M.
Hardik C.
Shilpa S.
Aditya K.
Brinda V.
Anahita I.
Mandira A.
Rituka B.
Nikita V.
Debmalya D.
Priyanka M.
Prabhavathi K.
Ayushi M.
Bidesh D.
Abhilasha J.
Rehana A.
Hema A.
Pooja B.

50 early bird winners of Amazon voucher will soon be informed via email. Check your inbox to know if you qualified for the same! All the winners will get email from us shortly. 🙂
Once again, congratulations to all the winners, not just for writing such impressive blog posts, but also for furthering the cause of gender equality and ensuring that the next generation lives without gender stereotypes related to household chores and more!