Times of crisis bring people closer. They push us to play roles unimagined and to be the best versions of ourselves in every little moment. In the current difficult times, all of us have been doing things that we probably didn't do earlier or did very little of it. While a lot of women did more than what they did earlier, men joined in to help in domestic chores. Ariel India celebrates this and invites you to join their #ShareTheLoad movement.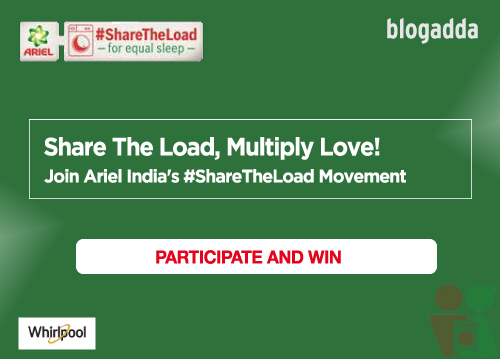 Have a look at the short film that further contextualises the sharing of load happening at homes during lockdown.
Did you notice some changes at your home? Family members trying to help each other, surprising each other by doing things that you thought were really nice and helpful. It is moments like these that make a happy home. We would love it if you share such with us.

Do tell us about how you have seen the most surprising realisations with family members who have started to share the load at home. Women could blog about the male counterparts while men can write and publish their own realisation moments. Of course, doing laundry would have been the most easy task to start with and we would want you to share pictures of men sharing the load.

Here's to all those spectacular men who've begun to #ShareTheLoad and made it a joyful, loving part in their homes. We have some rewards for all those who are willing to share such stories with us.

Prizes:
2 Whirlpool Washing Machines
15 winners get Ariel Supply for 6 months
25 winners get one Ariel Product Sample
50 early bird vouchers for valid entries of Amazon India worth Rs. 300

Participate and Share your blogpost soon to avail of assured vouchers. Last date to submit your post is June 21, 2020.

Instructions to Follow:
1. Ensure you embed the film (https://www.youtube.com/watch?v=KAKvjRMcPU0) and include these hashtags #ShareTheLoad #ShareTheLaundry and #ShareChoresMultiplyLove in your blogpost.
2. Share pictures of men helping with laundry.
3. The blogpost needs to be a minimum of 400 words.
4. Include this line 'I will #ShareTheLoad and help in household chores in association with Ariel India and BlogAdda'
5. The last date to submit your entry is June 21, 2020.