A warm hello to everyone. Today's book is special. Very special. Not just because this book is yet to be launched, not just because you get to read before anyone else but because this book is about the story of an entrepreneur who has successfully revived the fortune of quite a few distressed companies and talks in detail about the turnaround from rebel to entrepreneur! We are talking about Jason Kothari and his book 'Irrationally Passionate'.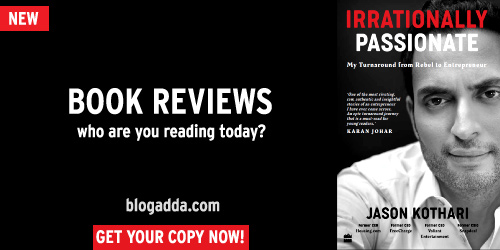 Irrationally Passionate reveals the inside story of the turnaround specialist, Jason Kothari, and has something for everyone. If you like reading stories of powerful individuals and what they did, how they did and importantly, how they turned around things even when not everything was in their favour, you should definitely read this one.
We have 50 copies (pages: 264) of this book available for members of Book Review Program. Apply immediately, if you are interested.
Overview of the book

While a college student at Wharton, Jason Kothari scraped together money from family and friends to save his childhood favourite comic book company, Valiant Entertainment, from bankruptcy and bring it back to life. A few years later, he transformed Valiant into the third-largest superhero entertainment company in the world after Marvel and DC Comics and sold it for $100 million.

Jason then became a professional turnaround leader and went on to transform distressed Indian Internet icons Housing.com, FreeCharge and Snapdeal, helping save billions of dollars in value, and advise giants like technology investor Softbank and real estate developer Emaar, who have invested billions of dollars in India.

Irrationally Passionate reveals the inside story of how a rebel, train-wreck kid transformed himself into a successful young entrepreneur and business leader who became one of the top ten paid executives in India while only in his 30s.

From getting his first job as an assistant to Jackie Chan in Hong Kong, to learning strategy from champion Muay Thai fighters in Thailand, to tackling huge personal setbacks, to becoming a CEO in 60 seconds, among many other stories—Jason's inspiring journey across countries, industries and companies has something for everyone, right from students to entrepreneurs to corporate CEOs to even parents of students and entrepreneurs.

Irrationally Passionate is a highly personal, authentic, open and complete account of a young entrepreneur's life. Brimming with practical advice and philosophical insights, it will force readers to reflect on how they perceive life, work, family and spirituality by giving them a fresh perspective.
About Jason Kothari

Jason Kothari is a passionate entrepreneur and business turnaround leader.

While still in college, he acquired the bankrupt US-based Valiant Entertainment and led its transformation as the CEO to the third-largest superhero entertainment company after Marvel and DC and a sale for $100 million, a record industry return.

Subsequently, Jason was the CEO of Housing.com, where he led the transformation of the distressed company and a merger with News Corp's PropTiger to create the $350 million industry leader.

Following this, he was the Chief Strategy & Investment Officer of Snapdeal, where he played a lead role in transforming the distressed company from a monthly loss of over $20 million to a profit, the first for an Indian e-commerce company. Jason was also the CEO of FreeCharge, where he led the sale of the company to Axis Bank for $60 million.

In addition, he has been a Senior Advisor to Softbank; Noon.com, a Middle Eastern e-commerce company that has raised $1 billion; and is a Board Director of Emaar India, which has over $2 billion in real estate assets.

He is also an Executive Producer of Bloodshot (Sony Pictures) starring Vin Diesel. Jason holds a B.S. from The Wharton School and lives in Mumbai.
Interested?

We want you to read and post your review on your blog, Amazon and Goodreads. The review should be between 350-500 words and should be posted within 7 days from the day you receive the book. In your review, tell us about the book, the writing style, the inspiring story, your likes, dislikes, expectations, takeaways and more.

For you to review this book, you need to be a registered member of BlogAdda and your blog should be approved by BlogAdda. You also need to have a registered account on Amazon India & Goodreads. If you have already signed up, then click the below link to let us know your interest in reviewing this book.