Gujarat National Law University (GNLU), was established under the GNLU Act, 2003, by the Govt. of Gujarat and began functioning in the year 2004, with the objective of advancing the learning and knowledge of law with emphasis on global development. The University has always advocated for all-round development of students with equal focus on both academics, extra-curricular activities, and sports. Justice League is the annual sports fest of Gujarat National Law University. First hosted in 2015, the brand has only developed over the years.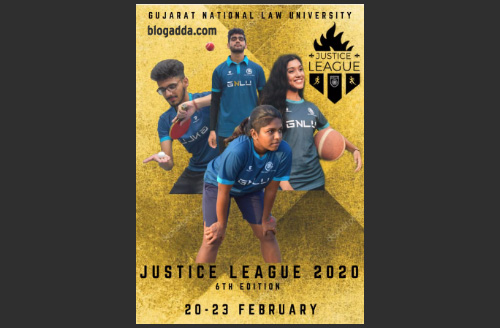 Growth means more incentives. Justice League offers students a one-time chance to make big bucks. (Comes with a lifetime warranty for the memories made.) It will be held from 20th to 23rd February 2020.
Here are the events one can participate in:
8 Ball Pool, Athletics, Badminton, Basketball, Carrom, Chess, Cricket, Football, Kabbadi, Skating, Swimming, Table Tennis, Tennis, Throwball, Volleyball.
Each edition of JL has seen scores of students come from all over the country. Their athletes hail from universities such as the National Law University Jodhpur, Indian Institute of Management; O.P. Jindal Global Law School; IITS; NITs; and several other prominent universities in the country. 
The rumor is JL was bitten by the Pitbull bug somewhere along the way. As a result, their last edition had the good fortune of welcoming Tribhuvan University from Nepal too!  What matters also is that they guarantee each event will have a minimum participation of 5 teams, with popular sports such as cricket seeing up to 20 other competitors.
Why do you think they call themselves a sports FEST? Obviously, they have some fun carnival games planned on the side.
These include activities such as Human Foosball, sports quiz, dizzy penalty, push up and pull up a challenge, arm wrestling, etc. Register on http://www.justiceleague2020.com/how-to-register/ to participate in the events.
For more details, visit  http://www.justiceleague2020.com/.  Members of BlogAdda interested to attend the fest, write to us at bavity@blogadda.com