Eureka! is Asia's largest B-Model competition held by E-Cell IIT Bombay accredited independently by CNN and Thomson Reuters. Over the 21 years of its existence, teams registered for Eureka! have been competing for prizes worth INR 5 Million at stake with excellent networking opportunities in India and the Silicon Valley!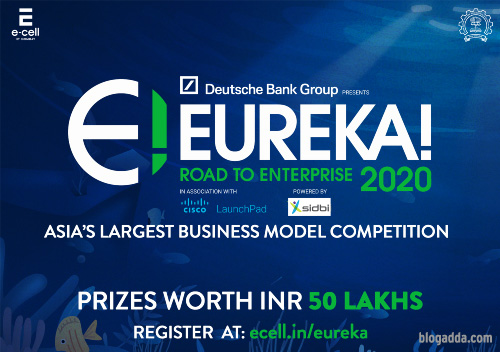 Eureka! is a 5-month long heuristic experience. Tutelage is provided in and out, right from writing a 'Business Model Canvas' (BMC) to drafting a 'minimal viable product'. It is a competition of 11,500+ entries fighting for INR 5 million.
It is conducted via the following phases:
Registration: The registration portal for Eureka 2020 (http://www.ecell.in/eureka/) has launched on 6th September. The participants have to fill a questionnaire (fully) before 17 October. Any discrepancy in the registration process is tantamount to being disqualified
Online Mentors Meet: Once the semi-finalists are declared, they are invited to attend an online mentoring session. This session consists of various events such as Pitching, Lean Startup Methodology, and the semi-finalists get to e-meet mentors from their specific sectors.
Pitching: All the finalists pitch their startup in front of the esteemed Eureka! jury, which consists of investors, businessmen, and professionals. 
With the vision of promoting business, social innovations, and more, there are these five tracks broadly:
Eureka! Business: The Flagship event of Eureka!, the business track aims to help ideas develop into businesses that have the potential to revolutionize the world.
Eureka! Social: Eureka! Social encourages ideas and B-models which cater to people closer to the bottom of the pyramid and/or for a greener tomorrow.
Deutsche Bank Fintech: Fintech encompasses advances in technology and changes in business models that have the potential to transform the provision of financial services through the development of innovative instruments, channels, and systems.
Cisco Launchpad Edutech: With COVID19 shaking up the entire world including the education system, transition to a digital mode has now become an absolute necessity rather than a mere technology-driven trait. Keeping education and innovation excellence at its core, Eureka! 2020 in association with Cisco Launchpad introduces its first-ever EduTech track.
SIDBI COVID-19 Response Track: Extraordinary times require extraordinary measures, the COVID-19 Response Track launched by SIDBI is for startups that have bloomed during or before COVID-19 as a response to fight against it, help people overcome obstacles related to it with their innovative & new ideas, and convert it into a profitable business.
All you need is an idea that solves a problem and a team to make it work. Register today at ecell.in/eureka. Have a look at the announcement for Eureka 2019!
Members of BlogAdda interested to attend the event, write to us at bavity@blogadda.com