Big Hello to everyone. We are back with yet another book for you to read and review. This one seems very different and is not something that you'll usually read. It is a fresh and witty take on life today. And this is something that is most required not just in the current situations, but also if you want to generally be happy.

How To Be A Likeable Bigot by Naomi Datta is a hilarious take on how even being ordinary can just be fun. If you want to smile, learn some tricks of survival during current times, you should surely read this one.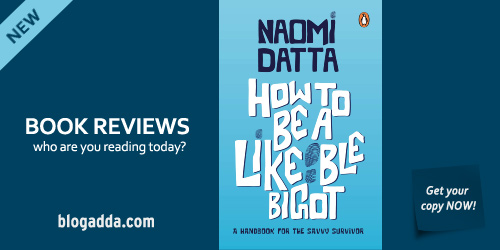 We have 15 copies (pages: 192) of this book available for the members of the Book Review Program. Apply immediately, if you are interested.
Overview of the book

In this collection of satirical essays in her deft, inimitable style, Naomi Datta tells you how to survive various situations – from how to befriend tiger moms to how not to get a pink slip- simply by being 'ordinary'. 'How To Be A Likeable Bigot' celebrates conformity and tells you how to be perfectly regular, to blend in and be largely forgettable. It is a fine art-moderation. This book will hold up a mirror to all of us, and we may not like what we see.

Sample Contents
1. How to contribute nothing to team meetings and not let anyone catch on
2. How to spend all your time on social media and yet give the illusion of productivity
3. How to contribute nothing to parenting and yet be dad of the year
4. How to be a chronic feel-gooder
About the Author

Naomi Datta is a creative director, presenter and writer with a number of leading channels. She is the author of the satirical, The 6 P.M. Slot, published by Penguin Random House India. Naomi is a frequent and widely followed commentator on mass culture through her Twitter handle nowme_dutta and her columns in various publications.
Interested?

We want you to read and post your review on Amazon. The review should be between 300-500 words and should be posted within 7 days from the day you receive the book. In your review, tell us about the book, the writing style of the author, your likes, dislikes, expectations, takeaways and more.

To be able to review this book, you need to be a registered member of BlogAdda and your blog should be approved by BlogAdda. You also need to have a registered account on Amazon India. If you have already signed up, then head over to let us know your interest in reviewing this book.