Makar Sankranti, Lohri, Sukarat, Bihu, Pongal – Several names with celebration in common. We wish everyone a great festive weekend. A lot of people will enjoy flying kites, while several will dance and many will have special meals.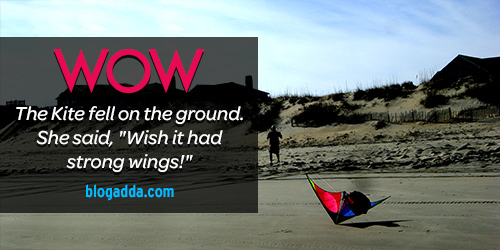 This week, we want you to write a story where you can fit in the line below anywhere you like. At the start, in between or to end your post with.
For this week, the WOW prompt is "The Kite fell on the ground. She said, 'Wish it had strong wings!'."
Do celebrate the festival, whatever region you belong to or are in. Have fun and remember to stay happy and be kind.
You have time only till Sunday midnight to submit your blog posts and win a chance to proudly display the WOW badge on your blog!
You are requested to add the mandate line mentioned below in your post. 'This post is a part of Write Over the Weekend, an initiative for Indian Bloggers by BlogAdda.' Click on the submit button below to share and for your WOW entry to be considered valid. All the best. Happy blogging!