It was lovely knowing your takeaways from 2017. Now, let us hear your wishes for 2018. Aren't we all looking at the new year with love and hope? It is better to write down and then refer to it regularly if you really care about them.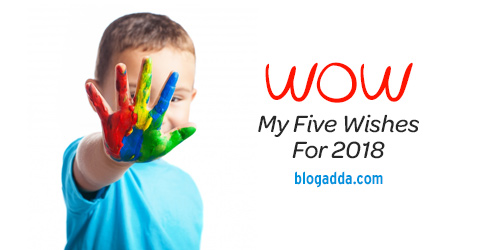 Let us also know, in your post, how do you plan to act on those wishes. They could be personal, professional or generic in nature, but there has to be some action from your end to convert those wishes into reality.
For this week, the WOW prompt is 'My Five Wishes For 2018'.
"A fresh start. A new chapter in life waiting to be written. New questions to be asked, embraced, and loved. Answers to be discovered and then lived in this transformative year of delight and self-discovery. Today carve out a quiet interlude for yourself in which to dream, pen in hand. Only dreams give birth to change. " – Sarah Ban Breathnach
Remember, you have time only till Sunday midnight to submit your blog posts and win a chance to proudly display the WOW badge on your blog!
You are requested to add the mandate line mentioned below in your post. 'This post is a part of Write Over the Weekend, an initiative for Indian Bloggers by BlogAdda.' Click on the submit button below to share and for your WOW entry to be considered valid. All the best. Happy blogging!