The year 2017 comes to an end. It must have been different for all of us. Good. Challenging. Taxing. Exciting. Lovely. For whatever it was to you, we are sure you would have had some great learnings. It could be things that you would never do, or some, that you want to. What are your biggest takeaways from  2017?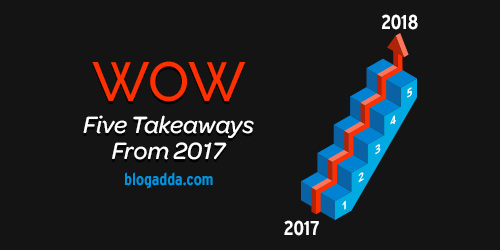 Writing makes us think. Ponder. Sometimes stronger. Do blog about your five biggest learnings, takeaways from the year 2017.
For this week, the WOW prompt is 'My Five Takeways From 2017'.
Remember, you have time only till Sunday midnight to submit your blog posts and win a chance to proudly display the WOW badge on your blog!
Bloggers are requested to add the mandate line mentioned below in their post. 'This post is a part of Write Over the Weekend, an initiative for Indian Bloggers by BlogAdda.' Click on the submit button below to share and for your WOW entry to be considered valid. All the best. Happy blogging!