Europa by Hywel Richard Pinto is a sci-fi thriller that unfolds through the eyes of a varied group of characters, each with their own agenda – one taking a life risking search, rescue and research trip, to Jupiter's moon, Europa; the second, through the rivalry between an American businessman and an Indian power hungry politician; whilst the third is the contest between hired guns of both the factions. If you love science fiction, you may not want to miss this one!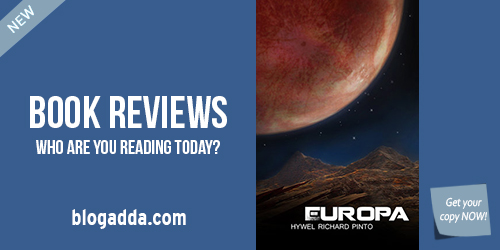 We have 10 author signed copies of this science fiction for all the members of the Book Review Program. Apply Immediately if you are interested!
Overview of the book
The year is 2250 and we are witness to a historical trial of one of the Silver Fleet's youngest and most promising Captain, Richard Sparks who has been accused of murdering a fellow crew member during the Silver Star's lengthy trip to Jupiter's moon – Europa. But the crew are divided as to whether the Captain is to blame for the fiasco or there was a bigger conspiracy on board.
Can another murder on board the Silver Star be attributed to the unusual mission that the ship is on? Does someone want the crew of the Silver Star to fail in their mission to locate one of her sister ships, reportedly lost near Europa? And just how many of the crew can Captain Richard Sparks trust, if he is to be believed as being innocent?
Meanwhile, a shadowy organisation back on Earth contends with a dangerous, corrupt and ambitious Indian politician, with the Europa mission being used as the counter weight. Will this affect the crew on board the Silver Star?
All trials are not as simple as they seem – not when the accused has a story to tell and some people will go to great lengths to protect what actually happened on EUROPA.
About the author
Hywel Richard Pinto, born in Bombay and brought up in Mumbai has always loved reading, right from the time he was in school, beginning with Enid Blyton's Famous Five and moving on to The Hardy Boys once he had exhausted all of Enid Blyton's series of mystery novels.
Hywel works full time in a Media agency as a Sr. Director – Media Planning.
In addition to this book, he has also written a murder mystery set in Mumbai by the name of "The Monday Murder" which was shortlisted in the top 20 manuscripts from nearly 300 entries by DNA-Hachette India in January 2013 during their Hunt For The Next Indian Bestseller contest.
Interested?
The review should be of 500+ words and should be posted on your blog within 7 days from the day you receive the book. In your review, tell us about the story, the writing style of the author, your likes, dislikes, expectations, takeaways, etc.
To be able to review this book, you need to be a registered member of BlogAdda and your blog should be submitted & approved by BlogAdda. You should also have signed up for the Book Review Program. If you have already signed up then head over to let us know your interest in reviewing this book.
NOTE: Even if you have signed up for the book reviews program, you need to individually apply for reviewing every book that you are interested in.