In a first of its kind, the MBA Executive-2017 batch of XIMB-XUB is organizing X-Eminence – a Business Conclave at XIMB, Bhubaneswar on the 4th of Nov. The topic for the talk is 'Coopetition-In the Era of Digital Transformation'.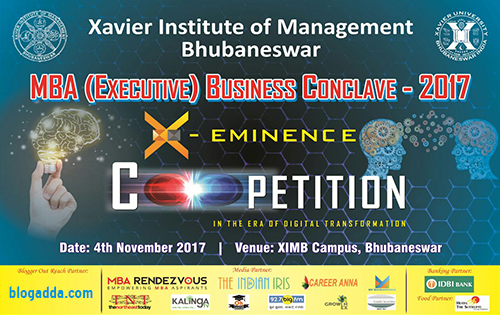 Six eminent speakers from industry namely Jayati Dwivedy from British Telecom, Debasis Mohapatra from PwC, Debasish Mohapatra from Shell, Dr, Kushal Sanhvi from I-Com Global, Simanta Mohanty from Human Capital Care & Resources and Ramesh Kollana from TCS are invited to provide their distinct insight on the selected business topic. This topic, which identifies the differential strategy organizations adept at while working out with their peers in terms of cooperation at one point and competition at another, has been on talks in business corridors for quite some time. The speakers and the students of the executive batch will discuss the impacts of this in today's ever-changing business scenario.
The talks will be followed by an intense panel discussion of the speakers moderated by the faculty member to brainstorm around "Make in India – The story so far and future trend".
This business marvel will see the amalgamation of brilliant minds of students and business leaders and would stand out as a memorable event in the business circle of Bhubaneswar.
Xavier University, Bhubaneswar (XUB) was established in accordance with the Xavier University Act 2013 and was inaugurated on the 7th of July 2014. XUB is India's first digital University and an institution of higher learning for imparting professional and technical education. It is a self-financing institution imparting professional and technical education. XUB has 6 Schools that offer world class education in different fields. XIMB offers an MBA in Business Management, Global Management and Executive programs. Xavier School of Human Resource Management offers the MBA-HRM program. MBA-RM is offered by the Xavier School of Rural Management. The Xavier School of Sustainability, Xavier School of Commerce and the Xavier School of Media & Communications offer different post graduate and undergraduate programs. Apart from these it has proposed to set up other schools of higher learning in various areas like Public Policy, Finance, Education and Centers of Research in Public Policy & other domains.
For more information please contact:
IlluminatiX, Media & PR Cell of XUB
Email: media@ximb.ac.in
Bloggers who are interested to attend can write to bavity@blogadda.com