"Its a jam packed bowl of joy" said Amar Gupta on Thomso. The IIT Roorkee Cultural Festival every year entertains a crowd of over  20,000 students.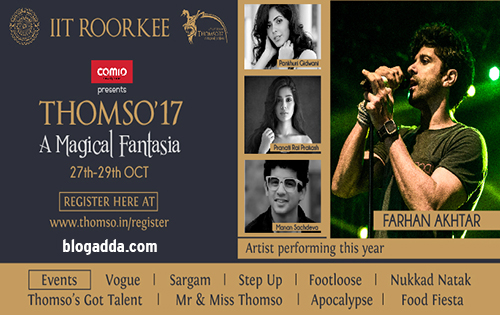 Started back in 1982 by a bunch of enthusiastic students, Thomso has grown phenomenally ever since its inception. Attracting participants and prominent names alike, it has a reputation for providing center stage to nation's greatest and most talented performers.
This year's theme is called "A Magical Fantasia!". "As children, all of us have read JK Rowling and Roald Dahl books, which introduce us to the world of magic. Somewhere growing up, that world takes a backseat. This year's theme, A Magical Fantasia, is based on reinforcing that belief in the world of magic. To find that magic, and never let it fade away" said Mayank Ojha from Thomso 2017 Office, on this year's theme.
"If this is the sign of things to come, get ready for the wild ride in store!!"
The 'R' in Roorkee stands for 'The Reasons' to come to Roorkee for Thomso 2017:
The reasons? That's Right! One of the biggest modern day youth icon, Farhan Akhtar will be performing live at the event. If that's not enough the organisers have gone a step ahead to make Thomso 2017 bigger than any of the previous editions."Unlike it's previous editions, Thomso 2017 will be a 72hr fest!" said Mayank Ojha. This means that you're guaranteed to have a never ending blast during your stay at Roorkee for Thomso 2017. Kudos to that!
Getting to Roorkee:
Roorkee lies on NH-58, which connects cities Delhi and Dehradun. Convenient modes of transport include Trains and Buses. Closest airport lies in Dehradun, which is a one and a half hour scenic drive away.
Thomso 2017 takes place at IIT Roorkee from 27th to 29th October, 2017.
Book your Tickets now at www.thomso.in/register
BlogAdda is a partner at the event and if any blogger is interested to attend this one, do write to us at bavity@blogadda.com