Waves is a celebration of ever-rising ecstasy and exuberance packed in 72 hours. And as the ripples of BITSian festivity spread, it engulfs more students, artists and resplendent performers than ever. Expectations from Waves 2017 are brimming, thanks to a plethora of pre-fest events, national eliminations, theme and event releases keeping up the hype. So let's prepare you to read the 'Tale in Two Shades' from 27 to 29 October. Here's what the latest edition is going to entail: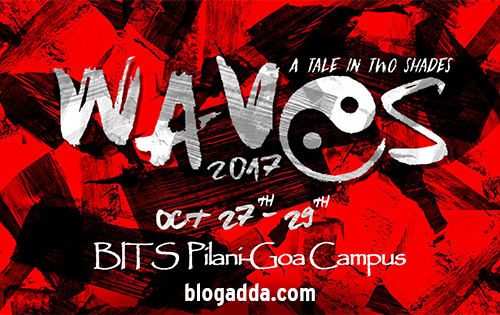 Pre-Waves
A packed auditorium coupled with much anticipation greeted comedians Karunesh Talwar and Kunal Kamra at the Pre-Waves Comedy Night — a wholesome success if the lumps of laughter and the applause were anything to go by. This has also set a bar for on-fest comedy, the performers of which are due to be announced soon.
The Nights
In keeping with tradition, expect each of the three 'Pro Nites' this Waves to be dedicated to a different genre. In no particular order:
– Lose yourself to the dance floor as EDM fills the air around you on the DJ Nite. Past editions have seen giants like Lost Stories and Nucleya perform, leaving the crowd completely spent after a night of rave dancing.
– Groove to the rhythm of the English Nite, which has featured performances by renowned artists from the likes of 'The F16s', 'As We Keep Searching', 'The Blackstratblues' and 'Thermal And A Quarter'.
– The finale — 'Bollywood a.k.a Hindi Nite' — is perhaps the biggest. While the epithet is self-explanatory, names like Amit Trivedi, Kailash Kher, Vishal-Shekhar and Shankar Mahadevan, which have highlighted the occasion, need no introduction.
The releases are due in the coming week. Make sure that you don't miss these out! We guarantee you that the nights are going to be what you take back after Waves is over.
Mini-Fests
In this edition, four of these constitute the fest structurally. They are:
Florence — performing arts (dance, drama and music) saga.
Beau Vista — lifestyle fest.
Carpe Dictum — literary fest and
Specials — which host the flagship events. These are the established pillars of Waves, viz. Fash P, Natyanjali and Mr. & Mrs. Waves.
National Eliminations
Waves' national eliminations have already been conducted successfully, witnessing huge participation in 9 cities for 3 different events, viz. SpinOff (DJing), Show Me The Funny a.k.a. SMTF (standup comedy) and Inverse (poetry slam) across the North, South, East and West chapters. One can't forget India's biggest college rock festival Searock, which has gone ahead with 6 of 7 eliminations already!
It's noteworthy that a number of new events were introduced this time, which include the Fashion Design event, the Hindi Poetry event "Irshad" and the upcoming Silent DJ event. Informals and online contests, with Waves merchandise as prizes, are already up and running from the official Waves Facebook page, which has surely created a buzz in colleges across the country, going by the growing number of likes and shares.
Honestly, Waves 2017 promises to be the best and the biggest ever — taking every participant through a journey with a mystical tale to tell!
Bloggers who are interested to attend can write to bavity@blogadda.com