You may have read many love stories but have you ever read any in the form of sequences of Hindi poetry that have the power to make you blissful and divine? Subrat Saurabh's book कुछ वो पल is a collection of Hindi poems that are easy to read and understand. If you enjoy reading Hindi poems, you may want to read this one.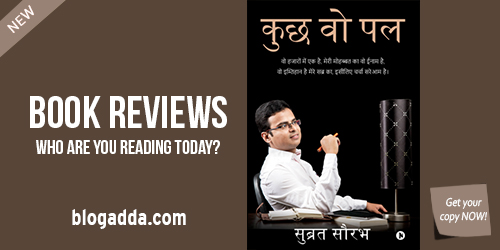 वो हजारों में एक है,
मेरी मोहब्बत का वो ईनाम है।
वो इम्तिहान है मेरे सब्र का,
इसीलिए चर्चा सरेआम है।
We have 10 copies of this book for all you members of the Book Review Program. Read the overview below and if you like it, Apply Now!
Overview of the book
Kuch Woh Pal is a collection of Hindi poems through which the writer takes you on a journey blended with ecstatic and painful experiences of a young boy taking on the struggles of life where he is away from his home for studies, makes new friends, finds love, break up with her and finally going through a tumult of emotions like anger, depression, apathy, romance, frustration, loneliness, separation, abandonment, etc.
Read this book and you'll be taken down memory lane to sense emotions that were once considered dead, which are now touching your soul. Plan a date with yourself, partner or your friends and read it over a cup of tea or coffee; catch up with your friends over a beer at the beach or during a get-together or to propose to the love of your life. This book will surely leave your mind and heart in a tangle of romance, sympathy and self-revelation.
About the author
Subrat Saurabh, a writer, poet and blogger, is popularly known by his pen name ChickenBiryanii on social media sites. He is proficient in writing witty one-liners, a skill he employs liberally on Twitter using his pen name. His tweets and witty liners were telecast and appreciated over television channels and it frequently gets picked up and published in leading newspapers or online news portals and go viral on WhatsApp. His poetry and short stories have been published in various magazines.
He completed his schooling from DAV JVM Shayamli, Ranchi, and pursued his Engineering from KLESCET, Belgaum. He is currently working as a Senior Consultant in Wipro Ltd. and lives in Bangalore. In his own words, he is a small-town boy born in Muzaffarpur, Bihar; who is a keen observer of different moods and phases of people around him, which gives the inspiration to pen them down as words of Hindi poetry. Subrat Saurabh can be contacted on Twitter, Facebook or via his Website.
Interested?
The review should be of 400+ words (can be in Hindi or English) and should be posted on your blog within 7 days from the day you receive the book. In your review, tell us about the writing style of the author, his poetry, your likes, dislikes, expectations, etc.
To be able to review this book, you need to be a registered member of BlogAdda and your blog should be submitted & approved by BlogAdda. You should also have signed up for the Book Review Program. If you have already signed up then head over to let us know your interest in reviewing this book.
NOTE: Even if you have signed up for the book reviews program, you need to individually apply for reviewing every book that you are interested in.