MindSpark, the national level technical festival of College of Engineering, Pune (COEP) is here. Scheduled from 22nd to 24th September, this event will provide a good platform for young engineers to think, innovate and showcase their talent.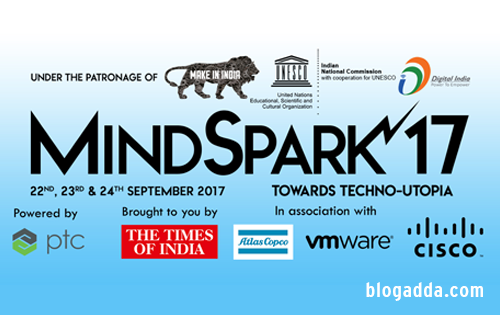 Started eleven years ago by a group of bright engineers this prestigious event has grown manifold, and continues to ignite minds across the nation. Participants have a plethora of events to participate in and stand a chance to win cash prizes too. The different modules are as listed below:
STRUCTURA (Civil) : Epitome, Conquest, Metropolis, ID Civil
DYNAMUS( MECH / Prod) : Assemblix, ID 2D, ID 3D, Mechtrix, Turnament
SILICUS (COMP/IT) : Code  Junkie, Code  Junkie++,  Xterminate, Retracer
VOLTUS(Elec/ EnTC/ Instru): Circuit fixer , Encrypto, MicroApps
SUBSTANTIA( Chem/ Meta): On the Etch, Dexter's  Lab
ACCELERO (Multidisciplinary): Wheelomation, The Wright Turn_Glider, The Wright Turn_RC Plane,  Aqualympics, Contraption
IDEAM (Paper Presentations): Byldan, PPT Comp/IT , PPT  Mech/Prod/Meta,  PPT  ENI , PPT Civil
ROBUSTUS (Robotics): Search N' Destroy, Robowars , Dog Fight, Bot Wrestling, Virtual Robotics
FASCINUS (Non-Technical): The Amazing Race, Bull Run, Bidzkreig 1, Bidzkreig 2, LAN Slam, Flash
ILLUMINATI (Quizzes) : Chakravyuh, IndiKya , Torquest
PRODIGIUM : Sudoku, Googler
COGNITIO (Workshops): HAM, TUX, Stareway To Heaven, CNC Lathe, Virtual Labs
Here are highlighted events from the ones above that you certainly don't want to miss!
Hackathon: Where participants came, coded, planned, manipulated solutions and conquered in a nonstop 24 hours challenge.
Technical Exhibition:  Where fresh talent will showcase resourceful engineering via a wide array of startups that will display their ideas and innovations.
Predict –X: The AI section, where participants will tackle dumps of data and create meaning out of it.
IndiKya:  The national level quiz where we test the true patriot in you as the questions in the quiz will be based on everything related to India be it sports, history, politics or geography!
Bidzkrieg II: Put your analytical skills to test and select 11 players to piece together their own football team. A sum of virtual money will be allotted to each team for placing bids and each player up for bid
Retracer: Find out the hidden logic behind apparently disconnected entities. It is an event for those who go beyond the traditional approach of identifying 4 as 2 + 2, 3+1, 4+0, and so on.
The event also has keynote lectures from prominent personalities lined up to inspire and encourage young minds. Some of the past keynote speakers at MindSpark were P. Chidambaram, Ex- Finance Minister of India; Dr. K. Radhakrishnan, Ex-Chairman, ISRO and Christopher Benninger, Architect of the Century.
MindSpark cordially invites all students to participate, innovate, create and make the most of this golden opportunity at College Of Engineering, Pune. Find out more about the three day extravaganza on their website. Follow their facebook and instagram to get updates on the go.
Bloggers interested in attending this event can write to bavity@blogadda.com