'So much to do, so little time!' Doesn't that line express our lives perfectly? We are so busy with our routines that many of our wishes are left unfulfilled. Sigh! Don't we all wish we had a magic wand that would set things straight?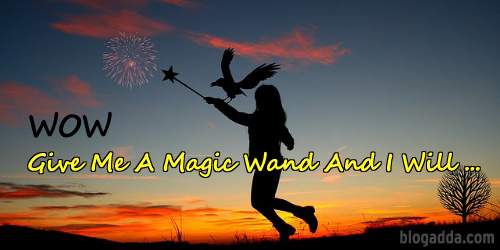 Imagine if all you had to do was raise your hand and wave your wand like a wish-granting fairy. And it would take care of all your problems, wants and much more. In this week's WOW (Write Over the Weekend) prompt, we want you to tell us what you would do with it. Use 'Give me a magic wand and I will' in your post. Remember, you have time only till Sunday midnight to submit your blog posts and win a chance to proudly display the WOW badge on your blog!
Bloggers are requested to add the mandate line mentioned below in their post.  'This post is a part of Write Over the Weekend, an initiative for Indian Bloggers by BlogAdda.' Click on the submission link below for your WOW entry to be considered valid. All the best. Happy blogging!