Have you moved cities? Have you left your hometown in pursuit of a lucrative life or due to unavoidable circumstances? If you've left a place or a city that you have lived in long enough for it to grow on you, you understand the mixed feelings. The pain of separation and excitement of the unknown ahead!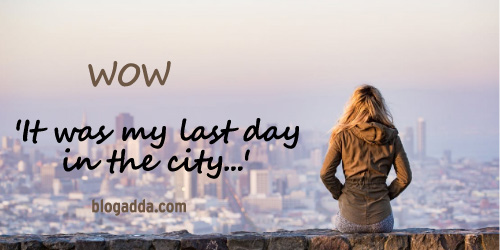 Tell us how you spent your last moments in the city. Start your post with "It was my last day in the city…". Remember, you have time only till Sunday midnight to submit your blog posts and win a chance to proudly display the WOW badge on your blog!
Bloggers are requested to add the mandate line mentioned below in their post.  'This post is a part of Write Over the Weekend, an initiative for Indian Bloggers by BlogAdda.' Click on the submission link below for your WOW entry to be considered valid. All the best. Happy blogging!