"Oh, deep in my heart,
I do believe
We shall overcome, someday"
There comes a time in our life when we feel beaten down.  Be it on the professional or personal  front, the toughest challenge arises when you are least prepared, leaving you  disheartened and let down by the universe. But there is always light at the end of the tunnel.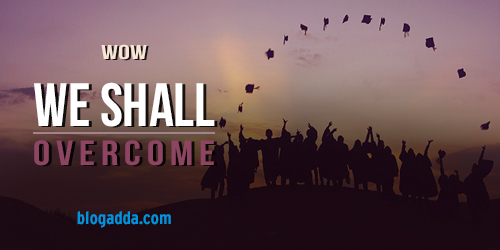 In this week's WOW (Write Over the Weekend) prompt, we want you to write about that one challenge that you face regularly. That which you believe you will look in the eye one day and say "I am bigger than you"! You can use the words "We shall overcome" in your post.
Remember, you have time only till Sunday midnight to submit your blog posts and win a chance to proudly display the WOW badge on your blog!
Bloggers are requested to add the mandate line mentioned below in their post.  'This post is a part of Write Over the Weekend, an initiative for Indian Bloggers by BlogAdda.' Click on the submission link below for your WOW entry to be considered valid. All the best. Happy blogging!