It was so much fun to see everyone of you share wonderful #ColgateMagicalStories with children.  We hope that you enjoyed the time spent with them where the children cut, learned and played with you. Thank you so much for the overwhelming response. Here are the winners as shared with us.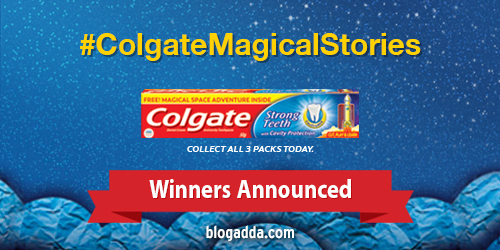 Here are top 15 winners,  in no particular order, of Colgate Magical Stories who are proud owners of vouchers worth Rs. 1000 each.
Ila Varma
Narmadha
Ekta Shah
Rupali Kadam
Anusha Thati
Ann Geo
Vamshi Krishna
Umaima
Jyottsana J Dhillun
Dr. Surbhi Prapanna
Jainita Sheth
Shivani Garg
Amina Khaleel
Ranjini. S
Kinnary Desai Nigotiya
Congratulations to all the winners! Thank you to everyone who participated and shared #ColgateMagicalStories. Stay happy and celebrate blogging!