It quenches your thirst, keeps you and your house clean, and is instrumental in bringing food on our table. What would mankind have done without this elixir of life? The one natural resource that covers two-thirds of our planet and makes it habitable.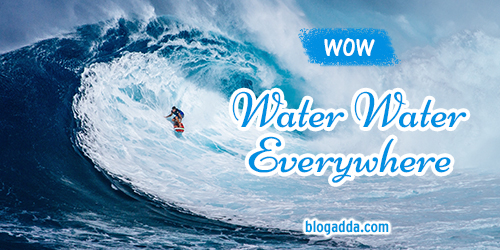 This week's WOW prompt is Water Water Everywhere.
We are all guilty of taking water for granted when it is easily available. But imagine having to live for a day or a week without it. As World Water Day was celebrated this week, we want you to write anything that comes to your mind about water. You can write about why you think water should be used more judiciously. Or how you think water impacts industries and livelihood. Or perhaps, autobiography of water.
Remember, you have time only till Sunday midnight to submit your blog posts and win a chance to proudly display the WOW badge on your blog!
Bloggers are requested to add the mandate line mentioned below in their post.  'This post is a part of Write Over the Weekend, an initiative for Indian Bloggers by BlogAdda.' Click on the submission link below for your WOW entry to be considered valid. All the best. Happy blogging!