Hello bloggers! At the start of every week, we bring to you #PerkyTweets to make your Monday a little less agonising after the lovely weekend you just had!  Here are some of the funny tweets doing the rounds this week.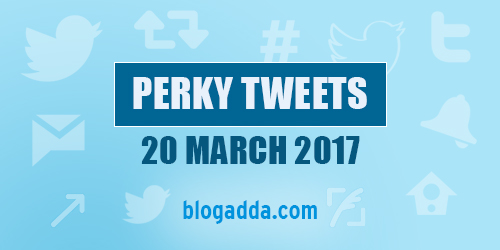 It's Monday people! Otherwise known as #InternationalChestDay pic.twitter.com/2cpxJNIXcw

— Ugly Gym Bro (@AListRap) March 20, 2017
Kohli is so aggressive. If he ever becomes the defence minister of India, Pakistan will be a part of J&K and China will be Arunachal Pradesh

— Sagar (@sagarcasm) March 7, 2017
Okay pic.twitter.com/LKN4JlQ6rn

— prettymom (@SmilinGargoyles) March 19, 2017
Name Place Animal Things taught me more about animals and geography than school ever did.

— Shrutzpah (@shrutithenaik) March 20, 2017
Spoke with a girl called Christine today. SO wanted to ask her why she robbed Saif in Goa.

— Rum (@KaapiRight) March 7, 2017
Meeeeeeeeee 😊 pic.twitter.com/SNSQtNNSr9

— Rumana (@RumanaNazarali) March 9, 2017
My mom when I fill water bottle and put into the fridge after drinking water. pic.twitter.com/e6POZmbv6C

— Rajesh Arora (@Rajesh_Arora1) March 9, 2017
family's reaction when u announce "i m leaving the job" pic.twitter.com/GD1VgcOzJv

— ㅤ (@firkiii) March 16, 2017
MANDIR WAHI BANAYENGE

Twitter: How can you do this?

There would be a doolally nearby.

Twitter: Cool then.

— Ivan Mehta (@IndianIdle) March 19, 2017
I'm just saying, would @HillaryClinton adopting the nickname "Killary" to become a vigilante superhero be the worst thing?

— Laura Shortridge (@DiscordianKitty) March 18, 2017
Came across a funny tweet you would like to share with us? Or have your tweet feature in our #PerkyTweets next week? Submit it by tagging @blogadda in your tweets with the hashtag #PerkyTweets!