Humans are the most adaptive species. We adapt when we are removed from the safe confines of our home and put in a school. We adapt when we move cities. Initial teething troubles persist but we adapt to biological, cultural and seasonal changes. Which is a good thing! The problem is when we get comfortable with our surroundings so much that we do not want them to change.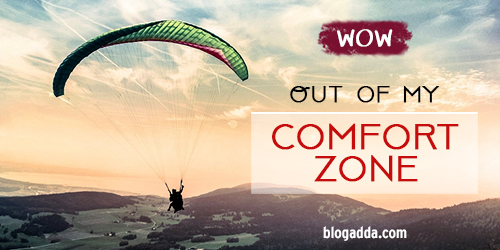 When excitement of something new overrules the familiarity of the known comfort zone. We have read a lot of inspirational stuff on pushing boundaries and getting out of your comfort zone. What does it really mean? Why should we keep distance from our comfort zones? Is it the only way to grow- by abandoning what we have known for a long time and moving on to explore newer territories?
Does magic really happen outside of our comfort zone? How will we know if we don't step out of it.  How will we know if the road ahead is full of roses or not? At the expense of our happiness and security, should we take the risk? If yes, why?
Dear bloggers, we ask you to write your thoughts on the topic 'Out Of My Comfort Zone'. Tell us what you think. Are comfort zones good or bad? Do they hold you back or do they help you prosper?
Remember, you have time only till Sunday midnight to submit your blog posts and win a chance to proudly display the WOW badge on your blog!
Bloggers are requested to add the mandate line mentioned below in their post.  'This post is a part of Write Over the Weekend, an initiative for Indian Bloggers by BlogAdda.' Click on the submission link below for your WOW entry to be considered valid. All the best. Happy blogging!