With technology and innovation as its forewords, Pragyan'17 is just round the corner. Pragyan is the annual international Techno-Managerial fest of NIT Trichy. With a plethora of events, workshops, guest lectures, exhibitions, and much more, Pragyan has always got something for everyone. It is taking place between 2nd-5th March, and it boasts a footfall of more than 6,000 students. Its online presence in over 40 countries shows how the fest has spread its aura far and wide.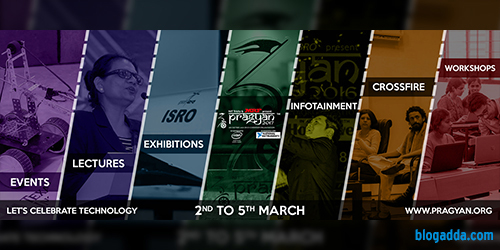 Every edition of Pragyan witnesses intellectuals and the brightest minds coming down from different corners of the world. Pragyan serves as a platform to enlighten the world of the revolutionary and inspiring advancements in the sphere of techno-management. The fest functions as a hub for ideation and intellection. Students with diverse skill sets and avant-garde ideas come together to display their talent and prove their mettle in science, technology and management.
As Steve Jobs once said, "Innovation distinguishes between a leader and a follower", it is this very sense of fostering the flame of science and innovation that lies in the foundation of Pragyan. This year, with its theme – 'LIGHT', Pragyan is going to brighten the minds of the future of India, the youth, with guest lectures from eminent personalities like Richard Muller – Professor of Physics at the University of California, Berkeley, Dr. Henry Throop – Planetary Scientist and Senior Advisor at New Horizons, Mr. Rajshekhar Murthy – Founder of International Malware Conference, Malcon, and many more. To help illuminate the young minds of our country, Pragyan conducts a thought-provoking panel discussion called Crossfire, inviting esteemed panelists like Dr. Ranjana Kumari – Director, Centre for Social Research, and Mrs Dhanya Rajendran – Editor-in-Chief, The News Minute. Not only will their talks and discussions fill the young minds with inspiration and passion for science and technology, but they will also show them the path that lies ahead of them as they step forward towards innovation.
What is innovation if it has not got some fun factor attached to it? Pragyan's one-of-its-kind – 'Infotainment' – is the perfect place to both sharpen your brain and also get entertained. Just as last year's Infotainment was a success, this year too Pragyan is working its heart and soul out to bring the best infotainment shows right before your eyes.
In this edition, Pragyan takes a step forward to organise informative and engaging workshops conducted by international organisations. These workshops are both creative like the SEBI Stock Marketing and Financial Planning Workshop, the Nikon Photography Workshop, and also brain-stimulating like the NI Internet of Things Workshop, and the IBM Cognitive and Cloud Computing Workshop.
The exciting events of the previous year have returned but with added enthusiasm this year. Robovigyan, Manigma, Chill pill, IOT and Code it are only a few of the many events organized by Pragyan, and with a total cash prize worth INR 1.2 million at stake, the participants are in for a great time.
And as ever, the exhibitions in Pragyan '17 are also no less fascinating. Starting with the theme-complementary portrayal of the world's darkest substance, Vantablack, the list of exhibits continues with geeky ones like Brain Controlled Helicopter, India's tallest humanoid robot INDRO, Smart Drone and Ornithopter etc., adding to the extravagance of Pragyan 2017.
Guest Lectures, Crossfire, Events, Workshops, Infotainment and Exhibitions form just the gist of what promises to be 4 days of trailblazing technological and scientific experience. And the mere promise held by the prospects only makes it all the more unmissable. Join hands with Pragyan '17 to channel the power of light and celebrate technology!
To get a glimpse of what is in store for you in Pragyan '17, follow Pragyan on Facebook & Twitter,
For more details, visit the website at https://www.pragyan.org/. Bloggers who are interested to attend can write to bavity@blogadda.com