Indian Institute of Technology, (Banaras Hindu University) is one of the oldest and most prestigious engineering institute. It is located in Varansi, Uttar Pradesh which has a tradition of nurturing and channeling some of the brightest young minds. The institute is organising their annual techno-management festival – Technex 2017, a three day extravaganza which starts from Feb 24, 2017, bringing together best innovative minds from all over the India to show their talent in various avenues of technology.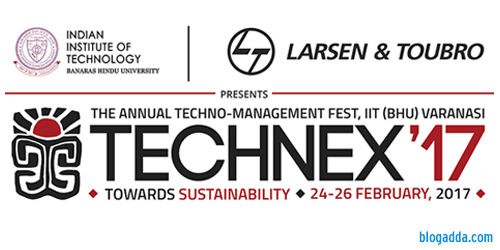 1. The line up of the Think Talks for Technex '17 has been released
Dilip Chhabria, Founder of DC Design
Vinod Dham, Father of the Pentium Chip
JN Reddy, Creator of the finite element method
Sam Pitroda, Founder Commissioner of United Nations Broadband Commission for Digital Development
Balaji Viswanathan, Most followed author on Quora
2. The exciting exhibitions which will glitz up Technex '17 have been launched:
Nao Bot – A 'little' wonder of technology, a prodigy indeed.
Industrial Robot – A robot which can actually build more of its kind.
Bio-Bot Puppy – Robotic puppy which is as mobile and entertaining as real.
Cube-Solver Bot – Because the Rubik's Cube is not just a human's toy.
3-D Printer – Make your thoughts tangible in minutes with this mind blowing technology.
Brain Controlled Drone – Control a copter by just thinking about it.
Indro Robot – The home made, yet full-fledged humanoid.
Bowling Bot – This robot almost always goes for a strike.
VR Golf– Enjoy the real fun of golf while still in your living room.
Green Building – Incredible building techniques to ensure a more sustainable future.
Robotic Hand– Amusing gestures with artificial intelligence.
VR Simulator – An expedition into the unknown, courtesy realistic virtuality.
Rocket Launch – The launch of a 600N thrust rocket reaching the altitude of 1 km.
MITRA – A full fledged on-board computer that can replace your PC.
3. The fest entertainment nights previously known as PRONITES are to be renamed as KALEIDOSCOPE.
To get a glimpse of what is in store for you in Technex 17, watch  https://www.youtube.com/watch?v=6R7JpCAOf7Y
Follow Technex on Facebook, Twitter, Instagram and Youtube. For queries and further details, send a mail to technex@iitbhu.ac.in .
For more details, visit the website at http://www.technex.in. Bloggers who are interested to attend can write to bavity@blogadda.com