Quo Vadis, a latin phrase asking "Where are you going?" embodies the pioneering nature of IIFT Delhi's annual Management & Cultural Fest.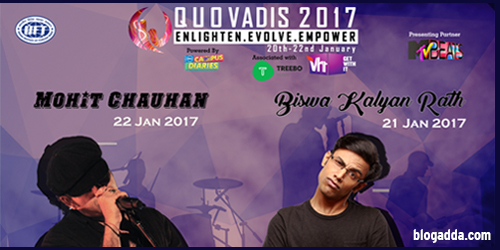 Started in 2007, it is a three-day extravaganza: a celebration of sorts; a dense display of management acumen and knowledge and conviviality which characterize college life; a festival oozing with fun, vibrancy and entertainment. As a part of the IIFT culture, the try is to imbibe social values among students and hold various NGO visits including camps, trainings for underprivileged kids and youth. Village visits and blood donation camps are carried out to increase awareness about social issues in the country and sensitize the students.
QUO VADIS 2017 is happy to partner with BlogAdda. The theme for Quo Vadis 2017 is "Youth Empowerment". By 2020, India's population is expected to become the world's youngest. This means that a growing number of India's youth need the right educational and employment infrastructure to develop skills and adequate opportunities to get employed or become entrepreneurs.
India needs to capitalise on its rich Demographic dividend, even the government and leaders of the nation have to come to realise this. Launching of programs like Skill India will help impart vocational training to the youth to make them capable and independent, enabling them to contribute towards their personal needs and in turn the economy. The students of IIFT intend to bridge the gap between the government's efforts and that of the common man and play a part in this drive and desire to empower less fortunate and underprivileged by providing them necessary training and growth opportunities so that they can take advantage of digitization.
Indian Institute of Foreign Trade is all set to kick-start the 11th edition of its Annual Management and Cultural fest, Quo Vadis, from the 20th to the 22nd of January, 2017. This year the college will host the renowned Bollywood playback singer, Mohit Chauhan on the 22nd of January, 2017 and the stand-up comedian Biswa Kalyan Rath on the 21st of January, 2017. A plethora of other scintillating events are scheduled to engross the crowd, all in coherence with this year's theme of 'Youth Empowerment: Enlighten, Evolve, Empower' which is a sign of IIFT's contribution to help India's less privileged youth by providing them training and growth opportunities.
For more details about Quo Vadis 2017, visit the website: http://quovadis.iift.ac.in/