The new year has dawned on us and we look forward with determination. To do or not to do few things is a choice that we have to make. As we decide to cut away all the negativity and focus on the good, we try to carry the essence of the lessons learned from the past and discover the newness. This is what each year promises us with. The commitment and intention that lets you curve your life's path. Such is the elixir of new year goals in our lives!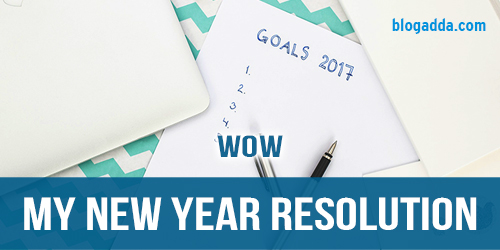 This week's WOW prompt is "My New Year Resolution"
With a good start of 2017, this time we at BlogAdda want you to write down about your resolutions. Though cliche as it may sound, we believe only when you have to write down, thoughts flow. The things you would want to learn and achieve. The take away from the past, that instills the urge in you to do better. The hobbies you would want to take up. The things you would want to remove that hindered your growth. Write this weekend about your strong and willful determinations that you would want to work on in 2017.
Bloggers are requested to add the mandate line in their post and submit their entry through the submission form for their WOW entry to be considered valid. Remember, you have time only till Sunday midnight to submit your blog posts and have a chance to get the WOW badge!
Include this code:
'This post is a part of Write Over the Weekend, an initiative for Indian Bloggers by BlogAdda.'
Good news! There is now an easier way to submit your WOW entries, so just click on the submission link below for your WOW entry to be considered valid.

Every weekend, we give creative writing prompts for you to write blog posts. Hope you enjoy our creative writing