Hello lovely people! We wish you a very Happy New Year. Let's kick start this year with loads of laughter and humour. It's true if all goes well, it ends well. So, amigos get ready as we bring to you this year's best #PerkyTweets of the week. These will definitely make you laugh till you drop. Catch up with these funny 2017 tweets!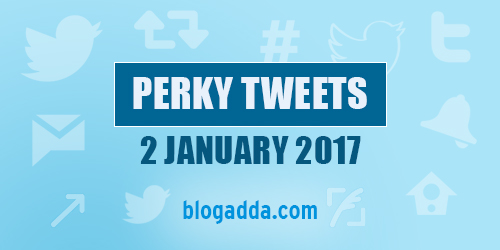 @blogadda #perkytweets Modiji is ALSO promoting Indian animation in a big way, Watch out for future Apps like CHUTKI,RAJU,KALIA,INDUMATI!!

— Ravi Shankar Rajan (@rsrajan1) December 30, 2016
Ram Gopal Yadav is Schrodinger's Cat of Samajwadi Party.

— Sumit Kashyap (@sumitkashyapjha) January 2, 2017
Modi to all those who were planning on taking a shot everytime he said Mitron: "LOL"

— The UnReal Times (@TheUnRealTimes) December 31, 2016
There r 2 reasons y some ppl don't mind their own business
1) They have no mind
2) They have no business
😂 #PerkyTweets @blogadda #silly

— khadija (@KhadijaBeauty3) December 29, 2016
The Brilliance of @SitaramYechury and his party…. LOL! I hope Cameraman Raju & @NDTV rush to cover this… pic.twitter.com/suzAfCgh0C

— MediaCrooks (@mediacrooks) December 30, 2016
Pessimist: the glass is half-empty
Optimist: the glass is half-full
Modi: pours the liquid into a smaller glass *Mitron, the glass is full*

— JaJaJa (@lolkthen_) December 27, 2016
Would you like to share a good laughter dose with us? Well, here's your chance to make your tweet feature in our #PerkyTweets next week! Submit it by tagging @blogadda in your tweets with the hashtag #PerkyTweets!