Good morning peeps! Christmas just left us astound with its immense love, joy and peace. We are sure you had fun filled festive weekend. Now its time you add more fun and craziness to another week's start. We bring to you some of the funniest tweets of this week to make you chuckle all day. Are you ready to laugh out louder with #PerkyTweets dose? Then get ready and read these best tweets from our twitteratis!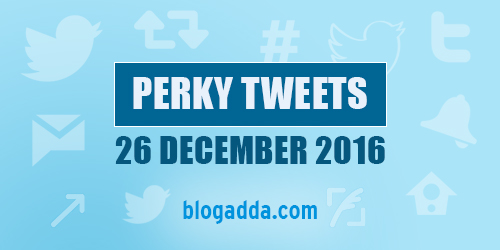 While ppl of my age are addicted to drugs and alcohol and I am here addicted to coffee😂 #PerkyTweets @blogadda #beautyblogger

— khadija (@KhadijaBeauty3) December 20, 2016
@blogadda #PerkyTweets Why did Najeeb run away from his "Jung"? Because "Taimur" has arrived !!

— Ravi Shankar Rajan (@rsrajan1) December 22, 2016
I'm the kind of person who'll pay full price of pizza even after 30 mins. 🙈 😂 #PerkyTweet @blogadda

— Niharika Verma (@niharikaverma22) December 22, 2016
Guests at home & your almost 3 screams 'Oh F***' for the first time!! have never been so ashamed and worried EVER!!#Perkytweets @blogadda

— Richa Choudhary (@allthatsmomblog) December 19, 2016
I always wonder if kursi ki 'peti' is accurate for seat belt, or if it was a typo for kursi ki patti that never got corrected.

— Gaurav Sabnis (@gauravsabnis) December 19, 2016
#fb Q: Is Beyonce Malayalee?
Ans:Yes!
Gods Own Country Kerala
Went to Ayyappa Sabarimala
Ate Onam Saddya
In ela ela ela ela #PerkyTweets

— K. Venugopal Menon (@VenuSpeak) December 22, 2016
@blogadda lawyers are ethical burglars #PerkyTweets

— Siddhartha Mishra (@siddyogi) December 23, 2016
@blogadda #PerkyTweets There are 3 types of people in the world-

1) vegetarian
2) non vegetarian

And

3) Tuesday , Thursday

— shwetabh mathur (@shwetabh2) December 23, 2016
Don't 'Like' unless you really like. But if you really like, then don't forget to 'Like'! #PerkyTweets @blogadda #KeepBlogging

— Amit Misra (@mr_amit_misra) December 23, 2016
Height of #Twitter addiction!
Ppl msging on #Whatsapp, even #emailing with generous sprinkling of #hashtags ! 😛@blogadda #PerkyTweets

— Varsh (@varshabagadia) December 25, 2016
Do not surrender to your past and be what it made you.. Farida #IQuote #PerkyTweets

— Farida Rizwan (@faridarizwan) December 24, 2016
In other news, Ram Mandir is built. I see it everyday between Jogeshwari & Goregoan station. I don't need an idol to pray now! #perkytweets pic.twitter.com/S81VvWRQCd

— Rohan Kachalia (@rohank01) December 21, 2016
@blogadda #PerkyTweets
Sadly comedy is not my forte but wanna be in the fort of comedy as a joker🤡

— shraestasuresh (@shraesta22) December 23, 2016
Would you like to share a good laughter dose with us? Well, here's your chance to make your tweet feature in our #PerkyTweets next week! Submit it by tagging @blogadda in your tweets with the hashtag #PerkyTweets!