Hello beautiful people, Monday is a sign to get back at your desks and fulfill your work obligations and set the scale of tasks for the entire week. To charge you up and enlighten your busy day, we bring to you best funny tweets of the week from our twitter sphere. Laugh and wrap up your work with these hilarious #PerkyTweets of the day. Put on your laughter gear and get going for some chirpy and fun filled ride!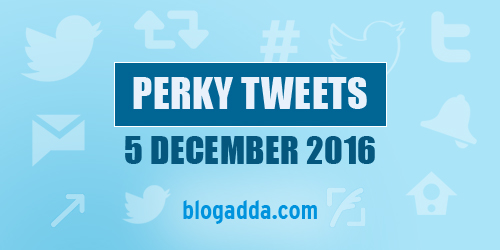 @blogadda The 1000/- and 500/- will be back in circulation. Confirmed news as appeared in newspaper.👇😂#PerkyTweets pic.twitter.com/ODfMuMYLOX

— Fashionablefoodz (@foodietweeter) November 30, 2016
"TODAY, BHARAT IS BANDH."

Shops: "LOL"
Shopkeepers: "LMAO"
Traffic: "ROFL"
Offices: "STFU"
ATMs: "Hum toh waise hi bandh hain bro"

— Akshar (@AksharPathak) November 28, 2016
Time wasted in ATM queue today – 1 hour. Under a blazing hot afternoon sun. The govt owes me not just time =money but aspirin and sunscreen

— anniezaidi (@anniezaidi) November 28, 2016
You know your life is screwed when Justin Bieber songs start to make sense.

— Pankaj Ahuja (@panku_) November 28, 2016
Anybody else wants to waste my time in 2016. Still 31 days left #perkytweets @blogadda

— Ritika Bhateja (@Infinit_Passion) November 30, 2016
Sometimes I feel like I'm a #PerkyTweet for my Guardian Angel in Heaven @blogadda 🍻😂🙈

— Niharika Verma (@niharikaverma22) December 4, 2016
@blogadda #PerkyTweetsI walk in2 a bookstore & ask the sales lady for the self-help section.She says "if I told u, it'd defeat the purpose."

— Sashankh Kale (@leosash) December 2, 2016
Q: Why was the Apple fan boys ATM locator App a failure in India?
Ans: Apple's famous #autocorrectfail changed App to AAP!!! #PerkyTweets 😎

— K. Venugopal Menon (@VenuSpeak) November 28, 2016
When d pediatrician said "this one's a unique breed", hope he meant it for the pup #toddlerlife #parenting #perkytweets

— Nidhi Sethi (@iam_agog) November 28, 2016
People say "The way to a Man's heart is through his stomach". I bet those people never met foodie girls. 😏🍝🍔🍗🍟🍕🎂🍻😍 #PerkyTweets @blogadda

— Niharika Verma (@niharikaverma22) November 28, 2016
Is Arvind Kejriwal listening to Mehdi Hassan Ghasal on the loop?
Pehle AAP
AAP se fir tum
fir tu ka unwaaN ho gaye. #PerkyTweets #fb

— K. Venugopal Menon (@VenuSpeak) November 29, 2016
Would you like to share a good laughter dose with us? Well, here's your chance to make your tweet feature in our #PerkyTweets next week! Submit it by tagging @blogadda in your tweets with the hashtag #PerkyTweets!
Visit our Perky Tweets parade on YouTube as well!