Hello voracious readers, we are back again with our fortnightly newsletter of the month. As, this year is about to wrap up in its own pace, a lot has been buzzing in our nation which needs our notice. Demonetization made the opposition ask for nationwide strike, to release of movie Dear Zindagi and acknowledgement of World AIDS Day. Last fifteen days have exuded many happenings, on which our Indian bloggers have articulated their thoughts and views regarding the same. So, keep aside all your usual work and lets enter the world of latest events and news in our one and only Buzzing Blogosphere!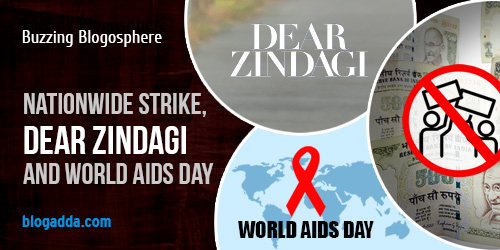 Unwanted Strike:
Demonetization that released wave of relief for common man and those who supoorted the motion. There were leaders and parties that were against the same movement. To see such resist by the people who actually promised to bring a change earlier is ironic, says the Myworld-i-share blog!
The auditorium was packed beyond its capacity. Notes and coins of all denomination were jostling for space. Sweat ensured that all notes new and old looked crumpled as if just rescued from drowning into a washing machine along with a lousy jeans trouser. Torn and worn out notes were pulled up by young brigades wearing silver lined suits. All had assembled to stage a protest. A protest to earn their self-respect back, a protest to mark their dissent, a protest to bring back the nawabs of Indian currency-500 and 1000 note. It was ironical that those who always comprised 'change' or 'chuttein' among Indian currency had assembled to resist a change initiated by Govt on 8th of November."Remember remember the 8th of November, the ban on 500 and 1000 note. I know of no reason why these currency denomination should ever be forgot", roared a tattered 5 rupee note as its body trembled like a piece of paper. The improvised dialogue of Guy Fawkes met with thunderous applause from crowd of 10 rupee, 20 rupee, 50 rupee notes. Whistles and cheers echoed from the fully occupied backbenches as the chiller coins danced in jubilation .A 25 paise coin from Bengal, where it is still worth a handful of jhaalmuri, representing the Ting Ming Congress (TMC) addressed the crowd next," They banned me and my brethrens. "hum chup raha, but now their overnight arrest and ban of our leaders will not be tolerated. "Karara jawaab milega..karara jawaab milega", a rupturous crowd was overjoyed.
The citizens of India really supported the revolution on the front of currency. Usually, we accept changes not too soon and often don't withstand. The people who actually nagged and cribbed about the same are not from the common lot, but well known. The ones who were against the motion has been elaborated in the Mediacrooks blog!
Normally, people would be anti-Govt at the slightest inconvenience caused to them by any policy or decision. It is truly amazing that a vast majority of Indians have stood by ModiSarkar and the PM, personally, in the demonetization move. There are problems and those will remain for a few more days or weeks. But the ones creating the loudest noises aren't the ordinary people. It is mostly the Opposition and some politicians in particular and the usual suspects in media. Of the lot, the two most badly hit by demonetization appear to be Mamata Banerjee and Arvind Kejriwal with Rahul Gandhi and Mayawati in tow with fake dramatics and anger. People are laughing at the way these politicians have made a comic stock of themselves. In a previous post we saw Rajdeep Sardesai going to his bank to fish for anti-Modi soundbites and getting none. The eternal anti-Modi hate-monger Ravish Kumar of NDTV spared no effort to instigate people standing in Qs at some place in Delhi (video 2.08 mins).Frustrated and angry – Ravish tells the crowd to write down what documents are required for exchanges for the benefit of public. People standing Qs are supposed to be doing that or the media guy in the middle is expected to do such public service? More frustration follows as the groups chant in favour of Modi. Eventually, like a hyena that didn't get its left-over meal, Ravish quietly slinks away from the scene cursing under his breath. The Opposition refused to debate the issue in Parliament unless the PM speaks. Their poor logic is that PM was the one who made the announcement. So what if the RBI governor or Shaktikanta Das had made the announcement? They would ask these gentlemen to answer in the Parliament? Kejriwal has more or less had a psychological breakdown. He even thinks banks have become rich and will run away like Vijay Mallya.
Dear Zindagi Vibe:

The movie that depicted the turmoils of today's young girl and her way to perceive things is well-defined in the movie Dear Zindagi. The movie talks about profession of the girl as cinematographer, which is so different and special from the lot. The girl who yearns to fulfill her dreams and aspirations, and has no shame in seeking help for her relationships in life. The Newgirlinacity blog shares her views take a look!
I just got back from watching one of the most beautiful pieces of work my eyes have ever laid on. Reviewing a film like Dear Zindagi almost is impossible to do. But I feel so fortunate to be part of the generation of Indian Cinema that is bringing such films to the big screen and I am here today to watch such a film. Gauri Shinde is a storytelling Goddess. Indian Cinema is well known for its elaborate commercial pieces, but what is understated is our non-commercial films like Dear Zindagi. To define this film just a few words I'd have to say it is: simple, heart touching, and life learning. Have you ever felt frustrated over the simplest things, but couldn't pin point the right meaning to it because it may be so little or maybe even too big to bring meaning to? That is life, and that is Dear Zindagi. The film which displays all aspects of life which ideally sounds complicating, but director Gauri Shinde simplifies it for us in the most beautiful way.While the story itself is beautiful, so are Alia Bhatt and Shah Rukh Khan. Who would ever imagine these two to be seen on digital together? This duo has set the standards of on-screen chemistry to one of the best yet. We all are already aware of Alia Bhatt's diversifying set of roles and remarkable talent in acting. And we all have fallen in love with Shah Rukh's signature post a million times, but without any signature poses SRK displayed a part of himself we haven't seen before and still looked younger and charming as ever before.
This movie has showcased the aura of a bubbly yet keeping her deep secrets within girl. Many girls' can co-relate with the ongoing issues in a their life. How one can solve the most complicated puzzle in a subtle way, has really helped the generation of today. The movie is uplifting and surely talks like today says the Kheemapau blog!
There are movies, there are scripts and in this weird rigmarole comes in an actor who simply steps in and owns it with her / his performance. The entire movie then belongs to that one person and no others in it matter. Dear Zindagi, is one such experience. In the early 70's we had Kaka aka Rajesh Khanna, when his era ended it was Amitabh Bachchan and then the Khan zone started…yet movies belonged to the menfolk. Nargis and her Mother India is but a distant memory of the past until very recently. The last few years have seen the new girls take such a firm grip of their roles and movies that the gender glass ceiling has been broken and how !!! Vidya Balan in Parineeta and Kahani, Deepika Padukone in Cocktail , Tamasha, Piku , a Tapsee in Pink, Alia Bhat who showed promise in Highway now delivers a whopping super punch in Dear Zindagi. Gauri Shinde the director who gave us the entertaining English Vinglish by serving us a rewarmed up old dish in Sridevi had earned with it her credentials as a solo masterchef. She could now serve her own masterpiece with fresh ingredients , without supervision and she does it stylishly.
Life is definitely uncertain, the turn of events can encounter you at any point. Still living with anticipation in heart is what keeps you going. Small things often make a big impact, all you need to do caress it with full optimism. The Jugniandco shares the lessons and aspiration that this movie is capable of, take a look!
Even though I don't understand how you change every single day, I love you Zindagi. Even though you take away people I love the most, I love you Zindagi. Even though I plan, you change the rules of the game, I still love you Zindagi. Many times we stumble upon words or visuals that effortlessly trigger an emotion in you. That's the kind of effect I felt as I watched the different teasers of upcoming film Dear Zindagi. Aren't we all in the race to repair-recycle-reuse ourselves? Just like they showed in the trailers? Post-breakup we hate all the coochy-cooing couples, we get annoyed with never ending traffic, we don't ever truly disconnect from all our work and technology even when we're on a break. But when we find that amazing parking spot right at the entrance of the store, or that tiny moment when we clear the green light by a second, that time when you get offered a drink at every hour in the club by different people. That moment we say, with all of that Love you Zindagi. The over exaggerated snap stories, the over the top dressing for no reason, the unplanned solo trips, the weekend getaways with friends, the drunk nights, the yoga mornings.
Views On AIDS Day
On the day when we acknowledge World Aids Day that is December 1st, it lead many people to put forth their views on the same. The people suffering from this illness also go through a social stigma. The Economydecoded blog urges people not to make it even more difficult for the victims of this heinous disease!
Every year, December 1st is celebrated as World AIDS Day. We all are familiar with the tradition of wearing the red ribbon to show support towards people suffering from HIV/AIDS, but how many of us actually practice what we preach? The World Health Organisation estimated that 1.1 million people died of HIV related causes in 2015 and 2.1 million people became newly infected. A number of awareness raising campaigns and movements are organised throughout the year, yet there are countless cases of prejudices against HIV/AIDS infected people. A person suffering from HIV/AIDS not only has to deal with the consequences of a deteriorating physical health, he also has to stand strong to bear the social stigma associated with it. The prejudice surrounding the disease is so intense that it kills the person way before the disease does. It exerts a social death, which only few can survive.
India has risen on the economical and political front. But, what's really sad is, that it still lacks on the biomedical grounds. The effect of HIV has increased the death toll every year. The Huffingtonpost shares the views in their blog, and reflects as to how every person can take up this challenge to eradicate this disease and make this place for better living!
"A decision, no matter what the consequences, is better than no decision at all." That is the thought that dawned upon me on a cold yet beautiful December morning in the holy town of Rishikesh, while jostling about in the steep and turbulent hilly waters. It ultimately sparked off a chain of events and decisions that led me coming back to my homeland. I was in India for a short break, and having met up with a friend from high school after a long time, I couldn't resist when he proposed a whitewater rafting trip. There, floating in the raft on the river Ganges, amidst the serene environment surrounded by the mighty Himalayas, he posed the most dreaded question for me at the time, "What is bothering you, brother?" Of course, the issue that I had been pondering for a while, the intensity of which would increase on every trip to India, was now reflecting on my demeanor in inexplicable ways. I shared with my friend my Shakespearean conundrum—to return or not to return. Should I continue with the well-set and high-paying professional life I had in the United States or listen to the intense yearning of my heart and return to India? He funnily quipped, asking if I wanted to become "Nick" or remain "Nikhil". In the ensuing discussion, one of his statements describing his own experience of returning to India stuck with me for a while: "Sometimes you have to let go of your fears to catch hold of your destiny!"
So lovely readers, this was all for this hour. Hope we were able to spread some good views and opinions that struck your mind as well. Keep reading, keep blogging and stay opinionated. Till then we'll sign off for now, and will bring to you another stories and events that create a big buzz in our nation!