Of Husband And Wife
Hello all the cuties! As promised, we are back again with this month's series of The BlogAdda Weekly 'Love It Is Of Husband And Wife – Part 2 where we will share a love tale that enunciates this special bond that celebrates the true essence of love and togetherness. Last time it was all about 'Love It Is Of Fathers And Daughters' this time it's all about world's most stately alliance of two souls which overflows with love throughout. Let's get started and memorialize love !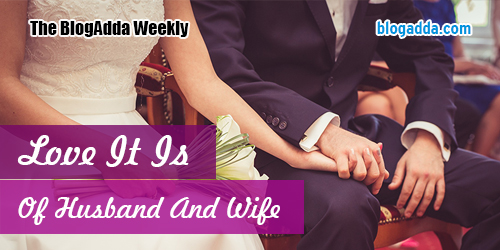 Scene 1:
I sat in front of the mirror gazing at myself. I wore a white flowing gown, a beautiful veil, flowery laced gloves, mane studded with beads and a crown. Yes, it was my 'wedding' day. The flower girls, holding the flower basket, played around me while I sat inside the dressing room.
The door opens, and my mother enters, "Oh my God, look at you Alice, you look the most beautifully adorned bride my girl. I am so happy for you, God bless you baby," my mother said. She was filled with immense happiness and tears of joy in her eyes.
"Mom I am excited and at the same time extremely nervous, my heartbeat is faster than usual. I hope all goes well." I held my mother's hands tightly and shared my thoughts that swirled like a hurricane in my mind. Finally, the day which every girl anticipates for, has arrived. All the love, care, pampering sprinkled on me mightily.
"You look amazing Alice, you've donned this marvellous white gown with grace. I am sure you are going to make Mike's heart pound more. Let me walk you down the isle. It's time for the most awaited moment," my mother said with a wide smile on her face.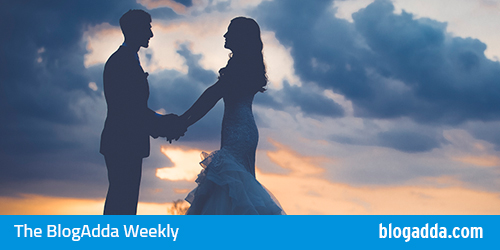 While I walked down the Isle with my mother and my younger brother beside me. The flower girls sprinkled flowers on the red carpet and everyone glanced at me with a gleam in their eyes. As I reached near the Alter I looked up with a misty view in my eyes due to the veil, there, I saw my man all decked up in a well fitted suit and a bow. A charming and handsome man who had a dimple when he smiled at me, I was all ready to spend the rest of my life with him.
Scene 2:
Alarm rings and I wake up with my arms wide open. The sun rays beamed through the window that kissed my face. What a great and beautiful start of my new journey. As I get down of the bed, I see a note kept on the bedside, it said, Alice I welcome you with my arms wide open and a heart full of love in your second home. I promise to love you till eternity, your loving husband Mike. These lines were more than words for me, coupled together to signify the joy of love. I love you Mike, I whispered.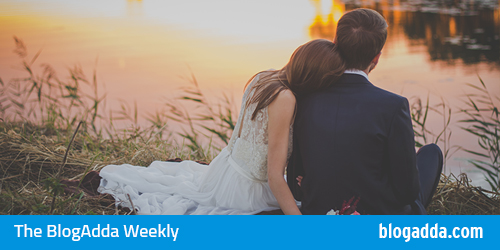 I decided to get ready and cook breakfast for my hubby. While I was getting ready, Mike enters, comes near me and kisses my forehead. Holds me in his arms and says, "You look so beautiful Alice, I am so blessed to have you. Let's go down breakfast is all ready." I was amazed and overwhelmed by Mike's another gesture of love, that made cupid fly around me.
We ate breakfast, which was extremely delicious.
"Hey Alice, I have a surprise for you. Here, take this envelope and I want you to open it right now," said Mike with excitement in his voice. I took the envelope to see what the surprise was, there it was two air tickets to Paris. Seeing the air tickets, sent chills in my body, since I have never travelled on a plane. And, I was also happy and thrilled because I always wanted to visit Paris. I did not know what to say and how to react. I was happy and scared both, at the same time.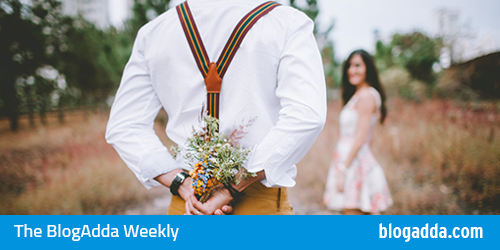 I gathered courage and finally told Mike that I have never travelled on a plane and I feel really scared to do so. Mike smiled at me, hugged me and said, "Don't worry Alice, I am there with you. I am here to take care of you. I will make sure that this journey will be treasured for lifetime in our hearts. Let's get going, we have just ten hours left before we board the flight." The resonance in Mike's voice gave me confidence. We set on to pack our bags, for our very own honeymoon in Paris.
Scene 3:
We reached the airport. Mike and I walked towards the boarding pass counter. In my mind I was still a little scared. As this was my first ever experience in a flight. We took our boarding passes and headed to board the flight. Through this entire time, my heart pulsated faster and I was trembling with trepidation. Mike held my hand and we entered the flight.
I stopped walking, stood in one place, glanced all over in the plane and told Mike, let's go back please. Mike giggled and said,"Alice, common don't be a spoil sport. Overcome your fear and you don't have to worry I am there beside you forever now." I somehow again gathered valour and walked towards our seat.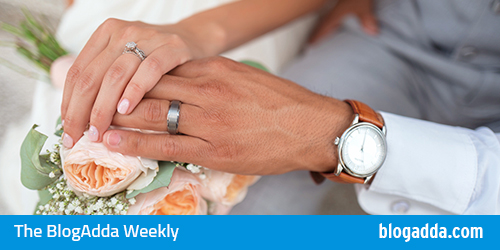 We sat down and I was trembling with so much angst, as if I am going to have a ghost encounter. Mike held my palm tightly and asked me to take a deep breath. I rested my head on his shoulder for some comfort.
Dear Passengers fasten your seat belts, we are about to take off, I sat up straight like I finally heard the voice of a ghost approaching near me. Mike chuckled as he saw this action of mine. I looked at him like a two year old, who is being bullied out of love.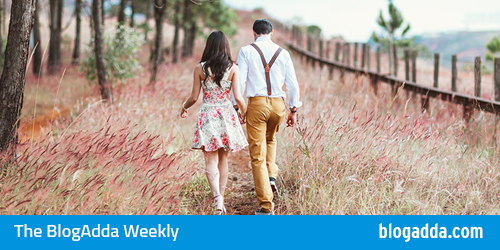 He held my shoulders asked me to sit back and relax. He took the belt and clutched it to my seat. Whispered in my ears, "I love you baby, just remember that it's time for Alice to be in her wonderland. You are born to fly and I am your companion for life. Let go off all the dread and anxiety and enjoy this journey to heart's content."
The plane started to take off, I closed my eyes tightly, held Mike's hand and seat's handle with the other and the plane of our love had finally boarded.
Wow, isn't it magical to see so much love that brims between husband and wife. We hope this story evoked love for your spouses. The story that reflects true love and essence of friendship at the same time. A bond between husband and wife is eternal. An unconditional love that demands nothing, but support, togetherness, and understanding. A husband who ensures to love his wife forever and take care of her. The wife on the other hand trusts him with all her heart and decides to overcome all her fears.
This is all amigos, for this week's series of The BlogAdda Weekly where we celebrated the bond of love between husband and wife. Stay tuned, till we return with another part for this month's series!