Amidst all the mundane chores and hectic life, we forget to take care of the heart which is the lifeline for every individual! A little care and attention for a healthy heart not only increases your lifespan but makes life more happy. This time on the occasion of World Heart Day, Blogadda in association with Saffolalife asked you to blog about small steps that you would take for a healthy life and make your heart 50% healthier.With these small and essential activities like staying active, eating better and being happy that are #ChotteKadam for a healthy heart!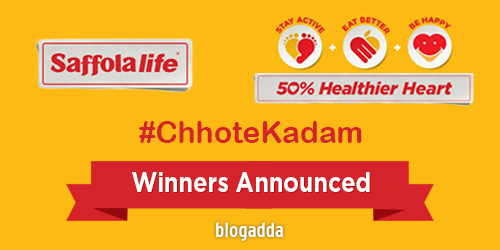 We had asked you to mention the small lifestyle changes that one needs to adapt for a healthy and happy heart. And yes, once again you all overwhelmed us with your salutary mentions in your blog post, that one must practice to nurture and maintain a healthy heart. Here are top 10 winners of #ChotteKadam activity who are proud owners of vouchers worth Rs.1000 each.
Ila Verma 
Kunal Chheda
Shalini
Congratulations to all the proud winners of this activity! A big thank you to all who shared significant points that will help us achieve a healthy heart! Stay active, stay healthy and #CelebrateBlogging!