Hello Monday! We are back again with our hilarious round of laughter and all things perky with #PerkyTweets! As usual Twitter has always been a pool of fun and masti, and BlogAdda makes it a point to kickstart the week on a happy note with the India's funniest tweets ever. While this Monday seems a lil less painful (yes, good wins over the bad tomorrow!) and we are all set for a quick break tomorrow, here's some giggly jokes and chuckling tweets to keep you hail and healthy through the day!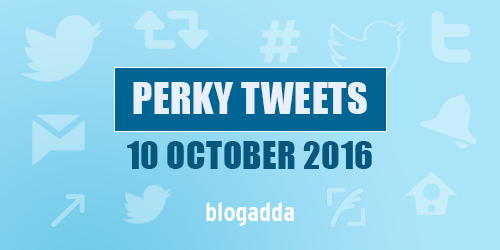 #perkytweets Surgical Strike is like a Piles operation,(1/2)@blogadda

— Travel,food,fitness (@Sapnabansalgarg) October 5, 2016
(2/2)Doctor tells every1 it ws successful bt d patient wants 2 keep it a secret.
Pak's denial is totally justifiable@blogadda #PerkyTweets

— Travel,food,fitness (@Sapnabansalgarg) October 5, 2016
#PerkyTweets "Delhi CM condemned RaGa's statement"
OMG, his conscience's speed is faster than The Flash. Is he in d Next DC movie?

— Rohit Omar (@srirom) October 7, 2016
@blogadda In the coming future, samsung galaxy note 7 would be counted as an IED and might be the 1st choice for terrorists.#perkytweets

— shwetabh mathur (@shwetabh2) October 7, 2016
Writing blog posts lowers blood pressure; responding to comments raises it!#PerkyTweets @blogadda #KeepBlogging #CelebrateBlogging

— Amit Misra (@mr_amit_misra) October 7, 2016
Jai & Kapil #PerkyTweets
😁😂😂😂😀🤘 pic.twitter.com/neaCXdFBua

— Jai Patel (@jai_wt) October 9, 2016
Dad: U didnt like my pic on fb
Me: My a/c is deactivated
Dad: Why
Me: Bored
Dad: *rolling eyes* Grow up boring girl! 😷😳😕#PerkyTweets

— Varsh (@varshabagadia) October 7, 2016
Undecided over buying an #iPhone7 or insuring my life. I knw…I knw..incarnation is possible! #iPhone7launch #perkytweets https://t.co/FfP0BJA3gF

— Nidhi Sethi (@iam_agog) October 7, 2016
kudos to Pan Bahar team for superb timing of Brosnan ad release. shud divert nation's attention away from surgical strike proof #PerkyTweets

— HK ' shoOOonya (@shoOOonya) October 7, 2016
Shopkeeper: Bitva, tumahu Soda nahin kharide Baa?
Medical Entrant: Humri jindagi mein sab NEET chal raha ba! #PerkyTweets

— K Venugopal Menon (@VenuSpeak) September 28, 2016
Would you like to send us in a laughing fit? Well, here's your chance to make your tweet feature in our #PerkyTweets next week! Submit it by tagging @blogadda in your tweets with the hashtag #PerkyTweets!