Our mane. Our crowning glory. The saving grace when our face or outfits refuse to cooperate. Hair is not just some strands on top of our head, they are almost always the most striking feature of women everywhere. They help women be coy or fierce, depending on what they want to convey. As much as hair is dear to us, it also causes heartbreak when it breaks and falls, paying no heed to pampering or treatments. In this scenario, there's only one option. Take the Pantene #14DayChallenge at BlogAdda and win your battle against hairfall!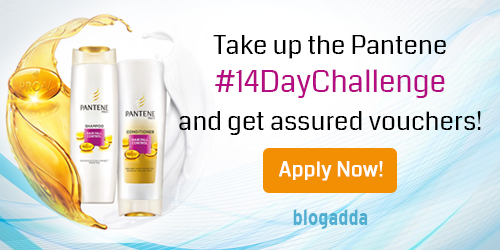 Are you a beauty, fashion or make up blogger? BlogAdda and Pantene invite you to review the new best ever Pantene shampoo, which promises to help you win the battle against hairfall in just 14 days. This new best ever range with its better than before Pro-V formula and advanced conditioning properties helps prevent hair breakage caused by damage, giving thicker, stronger hair and resulting in up to 98% less hair fall when used daily.
We want you to take this new offering from Pantene for a test run, and tell us the results with a review post! We know that your readers look at you for inspiration and advice when it comes to haircare. So why not give them a solution that will take away their hair problems through your review?
Speaking of reviews, the Pantene #14DayChallenge will give you the opportunity to write a fun, exciting and innovative review, details of which we'll give you once you're shortlisted. Excited? Click on the button below to apply!
Click to Register!
With the festive season coming up, it is *mandatory* for everyone to look and feel their best. And once you have won over the hairfall monster with Pantene, looking good will come easily to you! Let the #14DayChallenge begin!