Imagine, there is a sudden knock on your door. You open it, and there are flowers on your doorstep. A single rose or a bouquet of flowers, it doesn't matter – the effect is the same; it brings a smile to your face. There are few things in life that immediately perk up your mood, and getting flowers is definitely one of them. This weekend, borrow some of the beauty of these flowers and write a fragrant blog post for us!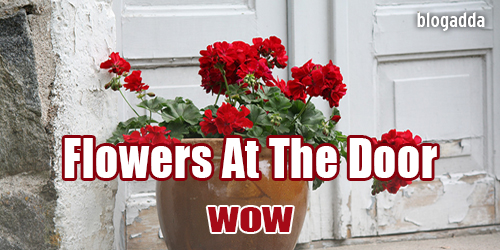 This week's WOW prompt is – "Flowers At The Door"
This prompt is designed to make you smile and then stop and think. As much as getting flowers at your door sounds filmy and romantic, it also has an element of mystery to it. Who sent you the flowers? A dear friend, or a mysterious admirer? This weekend, write a post that has a bouquet of emotions, and send it to us before the deadline. We can't think of a better gift to wake up to on Monday morning.
So, for this week's WOW prompt we want you to write about a time you received flowers at your door, or perhaps you should have and didn't. Or it can be a totally original story. The rule is that they are no rules, so go crazy and get writing.
BlogAdda and Miami Blues will give sunglasses worth Rs. 2500 each to the Top 3 WOW entries.
Bloggers are requested to add the mandate line in their post and submit their entry through the submission form for their WOW entry to be considered valid. Remember, you have time only till Sunday midnight to submit your blog posts and have a chance to get the WOW badge!
Include this code:
'This post is a part of Write Over the Weekend, an initiative for Indian Bloggers by BlogAdda.'
Good news! There is now an easier way to submit your WOW entries, so just click on the submission link below for your WOW entry to be considered valid.

Every weekend, we give creative writing prompts for you to write blog posts. Hope you enjoy our creative writing inspiration for this week. 🙂