Happy Ganesh Chaturthi and Happy Teacher's Day to the BlogAdda family! Monday has brought with it happy tidings and we hope you're enjoying every bit of it. And to make you happier, we have for you a brand new edition of #PerkyTweets! Have fun with these hilarious tweets about current affairs to make the start of the week even more mesmerizing!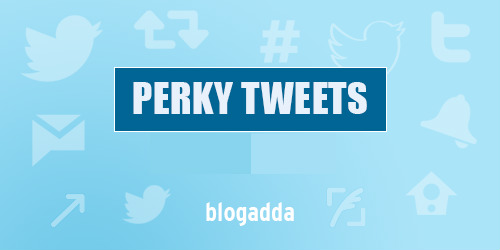 Countries have stadia in every 2km vicinity, while India has a religious place in every 2km vicinity. We don't play to win, we pray to win.

— Víkrám (@gvicks) August 25, 2016
Funny when Indian aunties who break the tip of every bhindi before buying tell you to "just take a chance" with regard to arranged marriage

— Gobblefunking (@gobblefunk_) September 4, 2016
Mooh me Rajnigandha …. pic.twitter.com/c9vzlRLRSO

— Dark Funtassy (@ErNayansingh) September 4, 2016
Zombae. When a ex comes back to haunt you after a dead relationship.

— WhoseFatherWhatGoes (@WhatMenBugger) September 2, 2016
If you get up expecting to have a bad day, you will. Don't be a duck. Be an eagle. Ducks quack and complain. Eagles soar above the skies

— Cheryll Pereira (@seeknsave) September 2, 2016
Fast and Furious movie series will keep making the series till they run out of Diesel.

— Paridecay (@sarcastictroler) September 3, 2016
2002: Raaz.
2009: Raaz The Mystery Continues.
2012: Raaz 3D.
2016: Raaz Reboot.
2020: Raaz Crashed.
2025: Raaz sold to bhangarwala.

— Chika Pikaa Rikaa (@Simply_neev) September 2, 2016
Once a Bengali girl called me Hot.
.
.
.
.
.
.
.
.
.
Then I realized she was just asking me to move aside

— Kartik Dhar (@KartikDhar) September 3, 2016
Dad: Ganeshji ki murti ke liye itni badi line, kya baat hai log kaafi dharmik ho gaye hai.

Me: Dharmik nahi.. yeh Jio sim ki line hai 😂

— Saint Chikna (@Madan_Chikna) September 4, 2016
Ganesh Ji is the God who also known as Vighana Harta, he converted a Monday into a Holiday this year. #Ganesh_Chaturthi

— Sunil- The Cricketer (@1sInto2s) September 4, 2016
That was our brand new #PerkyTweets collection. Hope you loved reading them! Tell us which ones were your favourites in the comments section below. If you want to be a part of the #PerkyTweets fun, tag @blogadda in your tweets with the hashtag #PerkyTweets.