Monday means another edition of Buzzing Blogosphere is here to give you an update of what happened last week. This week was very happening in terms of news. Prime Minister Narendra Modi gave an in depth interview about his policies, two other politicians were left red in the face due to their words and actions, while there was a Bharat Bandh going on. In addition to these, The canonization of Mother Teresa made news, the much awaited teaser of Ae Dil Hai Mushkil released, as did the movie, Akira. So, now that you see what we meant by high news volume, let's just dive in shall we.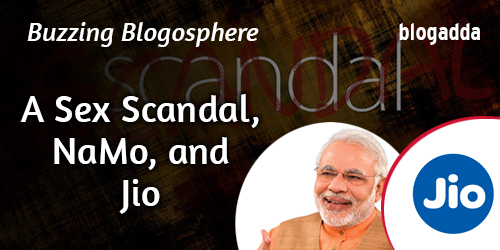 Narendra Modi says his Mann Ki Baat
A couple of months back, PM Modi had given a tell all interview to Arnab Goswami on Times Now, or in any case it was supposed to be tell all and sensational. Yet it left the viewers perplexed as it seemed more of a PR exercise rather than a gripping investigative piece that it was supposed to be. This week, another channel gave it another go. PM Modi gave another interview, this time to Network 18 Group Editor Rahul Joshi. PM Modi's personal website gives us the details, as well as the edited transcript of the interview.
"Prime Minister Narendra Modi sat down with Network 18 Group Editor Rahul Joshi for a comprehensive interview covering a multitude of topics spanning politics, economy, the criticism of his government following recent attacks on Dalits, vote bank politics and casteism and also offered a rare peek into himself, his working style and his closely held beliefs."
The interview spanned a variety of topics, including but not limited to role of media, corruption, the Indian diaspora, the state of Jammu and Kashmir, skill development of the rural classes, manipulation of poor during election campaigning, and the rape culture. However, in addition to these was the state of the economy. Mr. Modi specifically addressed corruption, black money, and the tax reform, i.e., the GST Bill. Eminent Blog tells us the PM's views on these topics.
"PM Narendra Modi said it is his government's decisive action that is helping turn India into an opportunity for foreign investors. However with progress must come transparency, and Modi has sounded a clear warning for those who have yet to declare their assets. In an exclusive interview to CNN News 18, the Prime Minister touched upon several economic issues including the goods and service tax (GST) bill, the challenges the NDA has faced and black money among other matters. Pointing out that the government has made requisite legal changes, he said, "You may have made mistakes with whatever the intention may be, whether it has been done willingly or unwillingly, here is your chance. Come in the mainstream… No one should blame me if I take tough decisions after the 30th."… "GST will simplify tax payments so much that anyone who wants to contribute to the country will come forward. This is perhaps the biggest tax reform since the independence of India. Taxation systems will also be simplified and this will not only benefit the common man, the revenues will help develop the nation… It (the system) will be transparent and strengthen the federal structure," Modi said."
Sandeep Kumar caught in a Sex Scandal
While Modi used the media to his advantage, another minister found out just how dangerous the media can be. Sandeep Kumar, Minister for Women and Child Welfare in the Delhi government, was caught in a compromising position with a woman, in short, a sex tape was unearthed and released. As expected, this has caused a media frenzy. Ankita Sharma provides us with the facts.
"Chief Minister Arvind Kejriwal said he had received an 'objectionable CD' of the minister in a compromising position with a woman.There were questions on social media as to why a man, who had consensual sex with another woman, would be threatened with action and sacked from the government. The talks are going around stating Sandeep Kumar used to make such videos and then later on threatened the other women for the same to satisfy his physical needs. This is a big concern for any lady who is involved… Kumar, in his first reaction to the media on Thursday, said he was being targeted because he was a Dalit. "I come from a poor family. The poor are always trapped. Every time we rise, there are conspiracies to crush us. I am being targeted because I have set up a statue of Babasaheb Ambedkar in my house… I am ready for every agni-pariksha (trial by fire)," he told."
No skirts, says the Cultural Minister
Another minister who was caught with his foot in his mouth this week was Mahesh Sharma, Minister of State of Culture & Tourism. His advice to foreign female travellers in India is to not wear skirts, for their own safety, mind you. Let's just look at the backlash that followed this comment, shall we? Kate Clark gives her opinions as a foreigner living in India.
"Mahesh Sharma's advisory for tourists: No short skirts, no travelling alone at night." This headline has probably already made its way to your Facebook and Twitter feed and back again in the last 48 hours. It's referring to comments made by Union Minister Mahesh Sharma during a press conference on Sunday at the popular tourist destination, Agra. Sharma warned female foreigners against wearing skirts or venturing "out alone at night in small cities" in India. His statement mimicked the existing sexist rhetoric rampant in international dialogues around crimes against women: It's the woman's fault. Her clothes were some sort of provocation. Why was she out alone? She was travelling alone? Women shouldn't travel alone. Women should be afraid… A women who disrespects Indian culture via her clothes isn't asking to be assaulted. A woman who does everything she can to assimilate, to blend in with locals is not protected from assault. Let me be the billionth women to exclaim: IT DOESN'T MATTER WHAT SHE IS WEARING."
Manjulika Pramod continues this dialogue adding her two cents as a female Indian traveller. She also took into account the conversations that she has had with foreign women travelling to India, despite such ignorant comments.
"While I ask every traveler to ignore the infamous 'Skirt Talk' that has been doing rounds for the last two days, I also believe that in today's times when women are choosing their decisions and destinations, they can any day decide not to visit notoriously unsafe and culturally backward countries. India definitely needs to be careful! Moreover, isn't it high time that we warn the scandalous men and boys that they will be held guilty and would be punished severely for their wrong doings towards women.. When it comes to dress codes, its not just India but many Gulf and Asian countries too come up with their directives. In fact, when I visited Riyadh, I even wore Burka. To be asked to adhere to a certain dress code is not wrong but to connect it with our safety and security is incorrect. And we know we lack here. I am absolutely not supporting the loose and controversial statement made by our Minister. It was definitely not framed properly and it left a bad taste for the Indian as well as Global audience. Ministers shouldn't go about making such casual statements. It leaves an impression as if Indian men have no other work than chasing skirts, which is quite untrue. And when we know that there are some brats who must be set right, why don't we take actions against the culprits? In fact, we should be talking more about strict rules and safety measures for both local and global women travelers than telling them how to dress."
Trade Strike shuts down the country
In addition to ministers creating hype, there was also a call for Bharat Bandh from Trade Unions. The trade strike was in effect all over the country. Nika Knight gives us information on the strike as well as the reasons behind it.
"Tens of millions of public sector workers in India went on strike Friday to protest Prime Minister Narendra Modi's push for privatization and other right-wing economic policies. "This strike is against the central government, this strike is for the cause of the working people,"said Ramen Pandey, of the Indian National Trade Union Congress, to Al Jazeera. "Our strike will be 100 percent successful … we will prove that this strike is the world's largest ever," Pandey said… Al Jazeera reports that union officials "said about 180 million workers, including state bank employees, school teachers, postal workers, miners, and construction workers, were participating, but the figure could not be independently verified."
While the industry expected the strike to be successful, and many will claim that it was, the truth of the matter is that it was complicated. The strike was more successful in some states than in others. Also, in some industries than in others. Kanika Bansal breaks down the impact of the strike, by both industry and state comparison.
"Life was disrupted in many parts of the country on Friday by the strike called by trade unions against the government's "anti-labour" policies. Public transport, banking and mining sectors were the worst-hit, and protesting workers were detained in Haryana, Jharkhand, West Bengal and Andhra Pradesh. The central trade unions said the strike was successful as around 18 crore workers came out on the streets to support the agitation. The government, however, said sectors such as railways, civil aviation and major ports remained "unaffected", while banking and insurance, coal, telecom and defence production were "partially affected"."
Many were complaining about the disruption they were facing in their lives due to the Bharat Bandh. In fact, they wouldn't even hesitate to call it a 'political move' or a 'back handed move' by the industry. However, many do not realize why the Bharat Bandh was called in the first place and the impact it would have if it would eventually be successful in getting the demands of the work force fulfilled. Angshukanta Chakraborty writes on the matter.
"Calling it "Bharat Bandh", the trade union strike is about demanding fairer pay, a minimum wage of Rs 18,000 for all unorganised work, better compensation and social security for the unorganised sector, among others… Modi government is interested in seriously overhauling what it thinks is an intricate maze of backdated labour laws hindering India's growth story and stopping it from reaching its full potential. According to this corporate-friendly worldview, the government has a bouquet of labour reform legislations in their draft stages, with which it intends to straighten out the tangled issue. With the Child Labour (Protection and Regulation) Amendment Bill already passed in Parliament, that allows children under 14 years to work in "family enterprises", the stage is set for a climate for more intense labour law overhaul that will make India a favourite destination for domestic and foreign direct investment, but will certainly aggravate an already sinking corporate-labour relations."
The much awaited launch of Reliance Jio
The telecom industry, which basically includes almost everyone today, at least as consumers if nothing else, was left reeling after the launch of Reliance Jio. The product was much anticipated as Jio had promised the lowest rates in the industry, a promise it has upheld. Rishabh Agrawal gives us the details of the launch.
"Finally Reliance Jio has been commercially launched and to say that they will disrupt the market will be an understatement. At the Reliance Annual General Meeting (AGM) today, Mukesh Ambani revealed all details that people across the country were waiting for with bated breath. He made multiple announcements – but the biggest one was by far the Mobile data prices – He first set the stage by talking about how other telecom providers are overcharging – and then dropped the bomb on them by announcing the cheapest data prices in the world. But that was not all – Reliance Jio will never charge for Voice – All voice calls will be completely free forever. And with it, India's mobile communication has changed forever! SMSes too, will be completely free for life. So, the only tariffs they will levy will be on mobile data."
No doubt, this announcement is going to have an enormous impact on the industry. So, much so that millions of people are itching to get their hands on a Jio SIM card. Analysts predict that this is definitely going to disrupt the market in what we can only hope is a good way. Sanjiv Shankaran informs us of the impact that it may have.
"It is anybody's guess if Jio will be a successful venture. Regardless, there are two conclusions one can reach following Ambani's speech. Data tariffs in India are set to fall significantly. It is the second time Reliance will disrupt the market this way- the first time it happened was 13 years ago….The eventual fall in tariffs could be greater as other telecom companies are bound to react to Jio's plans in order to preserve market share… The second conclusion that one is bound to reach is the fuss over spectrum auction was meaningless. Spectrum is a scarce natural resource and it is the government's prerogative to auction it. The methodology may not appeal to everyone, but to make a case that lowering auction price will translate into lower tariffs is baffling… Now, it is important for telecom regulator, Trai, to make sure that the market remains transparent and competitive. That is the only way to help consumers."
Mother Teresa has now become Saint Teresa
This week, Mother Teresa, a name almost everyone in India is familiar with, has now become Saint Teresa of Calcutta. Her name was among the 29 names that were granted Sainthood by the Vatican. Mother Teresa, or rather Saint Teresa dedicated her life to helping the poor of India, especially in Calcutta, a city she called home for most of her life. In the honour of her canonization, Subhadip Mukherjee recalls the time he saw Mother Teresa in person, and retraces her footsteps in Calcutta.
"That's Mother out there" my mother whispered in my ear, it was in the year 1988 and she had come to our school as the chief guest for the school's annual sports day. With everyone standing in front of me I could hardly see so my mother lifted me up and made me stand on the chair. In the distance I see a frail old lady bending forward slightly with hand folded accepting the standing ovation that she was receiving. Coincidentally I was wearing deep blue shorts and light blue almost white t-shirt and this was the same color that Mother Teresa was wearing. This was the first and last time that I had seen Mother Teresa up close… In 1929 she first came to India and started teaching at St. Teresa's School in Darjeeling, it is here that she changed her name to Teresa after taking her first religious vows in 1931. She then joined the Loreto order in 1937 with another vow to live a life of poverty, obedience, and chastity."
Ae Dil Hai Mushkil Teaser Breaks the Internet
The teaser for Karan Johar's latest film, Ae Dil Hai Mushkil was released this week, and the response it received has been overwhelming. In fact, it has been claimed that the trailer "broke the internet". Gaurav gives us a fan's experience of watching the trailer.
"Teaser released yesterday and got 17 Lakh plus views on YouTube, it's finally hereeeee. From the director of Kuch Kuch hota hai, Kabhi Khushi Kabhi Gham, Kabhi Alvida Na Kehna, My name is Khan and Student of the year, here comes another much anticipated flick titled "Ae Dil Hai Mushkil"… The teaser gives you goosebumps as soon as it starts (gave me, atleast) with the title song – Ae Dil hai Mushkil sung very beautifully. Don't you consider a song to be beautiful when you remember the composition and the song after only watching the teaser once."
Akira – A girl who fights back
Bollywood is known for the type of movies it produces, the typical Bollywood action dhamaka, where the hero fights the bad guys and saves the damsel, all the while presumably without a shirt on and dancing to an item song. However, gone are those days because girls can save themselves. Akira is a movie about a girl named Akira who is a badass. Manisha Lakhe writes her review of the film.
"The best part about Sonakshi Sinha playing Akira? She kicks serious butt. She can hold her own when it comes to college bullies, and it's not just during the fight in the college canteen that you burst out into instantaneous applause, but also outside when the college bully comes at her with an exacto knife. Woah! It surprises everyone. And the audience needed a new action hero. Here, we found one…. But on the whole, the movie makes you happy munching popcorn while the heroine cracks bones, makes you laugh cheesily when the creepy villain gets served his desserts. As they say, 'Paisa Vasool!' (Full Value For Money)"
While everyone was impressed with a female titular character in a Bollywood action movie, it does not mean that they were automatically impressed with the film itself. Lokesh Dharmani writes a perspective from the other side of the audience spectrum.
"Sonakshi Sinha has abandoned her "Saree ke faall' sa act and she aint scared of thappad or pyar or anything in between. Full points to her for trying something new, alas; there is nothing new in Akira that we haven't seen. It's almost like they replaced Sunny in Ghayal with Sonakshi in Akira… Don't get me wrong. The film was gripping in the first half. There is nothing sexier than a woman kicking some serious butts, but it slips intoSingham mode way too easily and way too quickly. You applaud the fight sequences for the first time, cheer for her the second time, get bored soon and feel like kuch bhi dot com towards the end of it."
So that was it for this week's Buzzing Blogoshpere. What did you think? Did you like it? Or did you think we missed out on something, please let us know in the comments section below.