R SQUARE Consulting will be hosting Social Media Week Mumbai, a week long event taking place at the Hyatt Regency and Todi Mill Social from September 12th to 16th, 2016. The theme of the event will be "The Invisible Hand: Hidden Forces of Technology (and How We Can Harness It For Good)". It will feature a plenitude of speakers on a variety of topics focusing on taming the changing tides of technology. BlogAdda is proud to be the blogging partner of Social Media Week Mumbai.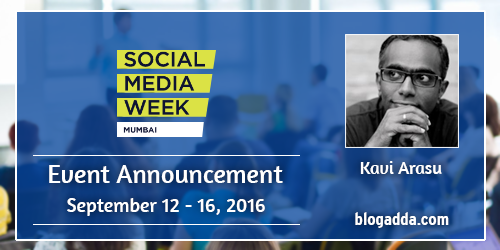 As useful as technology is, it can be a daunting thing as well. Don't believe that? Just ask anyone of the previous generation to do even the simplest task on a smartphone. They'll give up even before actually trying. Yet, our generation not only thrives on technology, but wants to make it a way to earn our livelihood. Still, that is a task easier said than done. The ambitious task is made even more difficult by the fact that technology, and especially social media, is ever evolving, so much as that as soon as we think we have a handle on it, it grows and changes, usually for the better but it may not always feel like it at the time.
Social Media Week has created a niche for itself in the definitive world of creating social media trends. Social Media Week Mumbai is all set to demystify the ever evolving world of technology and break down the uses of this behemoth for you.
Some of the speakers to be featured at the event, among many others, are:
1. Prahlad Kakar
2. Sean Gardner
3. Mahesh Murthy
4. Vivek Nayer
5. Satya Raghavan
6. Gautam Bhimani
BlogAdda is also hosting a Masterclass at Social Media Week, "Personal Branding simplified in 60 minutes" on September 14, 2016, at Todi Mill Social. The talk, hosted by Kavi Arasu, will focus on carving out "a niche for yourself by playing with social tools", as well as, allowing your voice to stand out in "a crowded world where everyone is shouting out loud."
See the whole list of speakers at the Event's Speaker Page.
BlogAdda is giving you the exclusive opportunity to hear and learn from these industry leaders who are experts in their fields by giving select bloggers a VIP pass to SMW Mumbai 2016. Click here to express interest in attending the sessions and workshops at SMW Mumbai 2016.
If selected, you will get to attend the prestigious event in Mumbai. After the event, you will need to write a blog post about your learning and experience at SMW Mumbai 2016. For anyone who works in the field of digital media, social networking sites or technology, this is one event which will give you ideas and insights for exponential growth of your brand.
We have limited VIP passes to give, so make sure you register right away to make sure you're at SMW Mumbai 2016! Learn all about Social Media Week on their website. Find out more details about the Social Media Week Mumbai on their website.