"Cleanliness is next to Godliness" is a lesson that every child grows up with. We are taught that the Higher power resides only in neat and clean spaces. Even our ancestors worshipped elements of nature as the Supreme Beings. Now that we have moved on and given different forms (or formlessness) to the higher power, we seem to have forgotten the lesson. Indian festivals are boisterous, full of joy and togetherness. But they also take a huge toll on the environment. Isn't it time that we went back to our roots and celebrated and venerated nature as much as we do our Gods?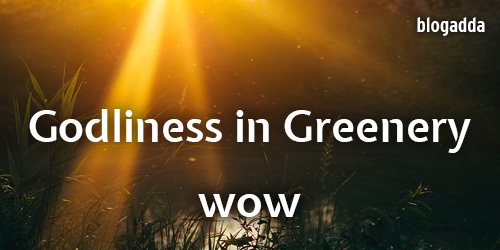 This week's WOW prompt is – "Godliness in Greenery"
We are on the cusp of the long festive season that will end only with the New Year. Most of the festivals that we celebrate are high on fun, and also high on pollution, notable among them being Ganesh Chaturthi, Navratri and Diwali. During these times, the issue of pollution is always raised but quickly forgotten amidst the merrymaking. We often leave a trail of litter and waste once we are done. Nothing proves this point like our festivals. Take the upcoming Ganesh Chaturthi festival as example, especially in Mumbai. During the ten day festival, pandals will be erected and we will play the best hosts to Ganpati Bappa. But once the festival is done, all the idols, thermocol, decorations and other hazardous materials end up in water bodies. How can we claim to love God if we have no regard for nature?
With this WOW prompt, we ask you to write a blog post about the "Godliness in Greenery", the presence of god in plants, in marine life, and in cleanliness, and what we can do to worship His creations in all its forms. 
BlogAdda and Miami Blues will give sunglasses worth Rs. 2500 each to the Top 3 WOW entries.
Bloggers are requested to add the mandate line in their post and submit their entry through the submission form for their WOW entry to be considered valid. Remember, you have time only till Sunday midnight to submit your blog posts and have a chance to get the WOW badge!
Include this code:
'This post is a part of Write Over the Weekend, an initiative for Indian Bloggers by BlogAdda.'
Good news! There is now an easier way to submit your WOW entries, so just click on the submission link below for your WOW entry to be considered valid.

Every weekend, we give creative writing prompts for you to write blog posts. Hope you enjoy our creative writing inspiration for this week. 🙂