It's Perky time! Week on week, we bring you the best tweets that we can find from Indian Twitter accounts. This week is no different, and you can rest assured that the tweets that you will read below will cause you immense mirth. So strap in, and get ready for a perky ride!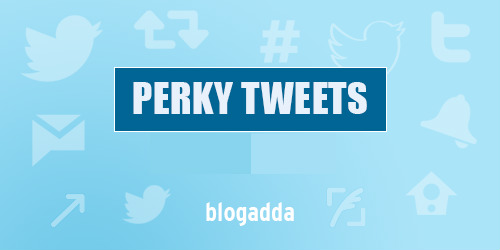 English: one night stand.
Hindi: Do pal ruka khwabon ka karwan or phir chal diye Tum kahan hum kahan #PerkyTweets @blogadda

— Amit Chahar (@AmitChahar) August 28, 2016
@blogadda #PerkyTweets. #CelebrateBlogging
if you don't want to eat Anti-depressants, I guess you can try 'No-more-tears shampoo.

— Malavika Mavinakuli (@malavikavtiwari) August 28, 2016
@blogadda #PerkyTweets A Man startled his liver so much that it burst. He drank water after ages, & his liver disliked the sudden change.

— Monika (@euphonious_tone) August 27, 2016
Country's latest avocation:
Favorite hobby- Offering unsolicited advice.
Trailing close at no.2- Taking offense #PerkyTweets @blogadda

— ShivaniShourie (@shivanishourie) August 24, 2016
Much to your relief or not, being well informed is a certainly a conversation killer.

Just a "I know" and it's over.

— Sceptical Enthusiast (@Adititweett) August 26, 2016
*Girl goes to govt. Office*

She: Need to apply for this certificate
Peon: Babu ke paas jaao

*Goes to her boyfriend*

— Drunk BATMAN (@Caped_Humor) August 27, 2016
Year 2042

Dhoom 50 releases

A gang of crackpots employed by a rival microbrewery to steal kegs from Doolally's personal freight train

— Gaurav Saha (@GauravSaha) August 27, 2016
Shared lift with a guy holding almost 30 red roses & a bag of Archie's. Mann kia bol dun time hai sambhal jao, life barbad na karo.

— pinku (@LEDtvn) August 28, 2016
@blogadda after I've explaind all dangers of the surgery in details to patient,he asks,
"doctorsab,koi problem to nahi hai,na?"#perkytweets

— Dr.Titas Kar (@titask9) August 22, 2016
Whenever someone starts singing "if you wanna be my lover" then singing "saiyyan dil mein aana re" becomes my reflex action.

— Shreemi Verma (@shreemiverma) August 27, 2016
How was this week's collection of tweets? Let us know what you thought of them in the comments section below. And don't forget to tag the best tweets that you find on Twitter with @blogadda and #PerkyTweets so that we find them and make them a part of the #PerkyTweets list!