In order to foster the culture of science and technology, as well as to help provide a platform for future scientists to grow, spAts IIT Kharagpur has taken the initiative of starting National Students' Space Challenge (NSSC). A unique challenge that is a perfect blend of space science and technology, it is also India's first and largest Space Technology fest. It will take place at IIT Kharagpur from 2nd to 4th September, 2016, and BlogAdda is happy to be their blogging partner!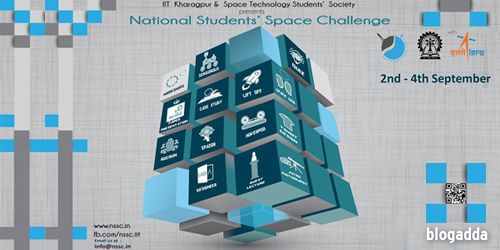 Today, India is at the forefront in the field of space science and technology. In just recent years, India has put Mars Orbiter Mission (MOM), aka Mangalyaan into the Mars orbit, as well as created a record with the successful launch of 20 satellites in a single payload, including one satellite from Google. All of these feats have been possible due to Indian scientists, who have both studied and worked hard to make these achievements a reality. But before they were successful scientists, they were ambitious students.
At the Space Challenge, budding space enthusiasts all across the country can compete in an amazing set of space themed robotic and non-robotic events, such as Lift Off, Spazor, Hoverpod, Sensorous, Rocrun, Space Deb, Astrophotography, T-shirt design, and Designeer. Additionally, participants can also witness amazing exhibitions, guest lectures, webinars and workshops.
BlogAdda is proud to partner with spAts to help their noble cause of advancing these platforms in India. Furthermore, we'd like to extend this opportunity to bloggers from the BlogAdda family to visit and experience the event.
If you are interested in attending this thrilling event and getting a peek into the future, please send us a mail on bavity@blogadda.com, and we'll arrange your presence at the event!
The NSSC is organized by the Space Technology Students' Society (spAts), which in turn is the student body of Kalpana Chawala Space Technology Cell (KCSTC), the contact point of Indian Space Research Organisation (ISRO), at IIT Kharagpur. To learn more about them and the event, visit their website, or follow them on Facebook and Twitter.