In this day and age, having a degree and having an education are two very different things. To be ready for real life, you need to be an all rounder, a person with holistic knowledge of the world and the way it works.
Understanding these needs and trying to fulfil these for students, Xavier Institute of Management, Bhubaneshwar, one of the premiere business schools in eastern India, will host not one, not two but 9 business conclaves in the month of August. These business conclaves will not only provide a great platform for professionals and aspiring professionals to stay updated in their sector but also promote intra-networking among them at the same time. BlogAdda is happy to partner with these informative conclaves in one of the most prestigious business schools of India.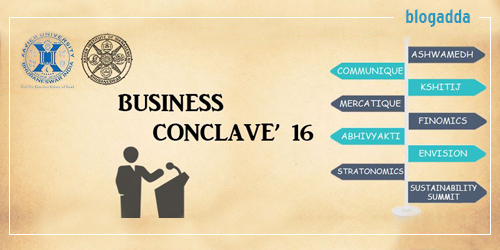 Each of these conclaves is organized by a different association of XIMB and is centred on a relevant theme while boasting of extremely inspiring speakers in the discussion panels.
STRATONOMICS, the conclave of the Consulting & Strategy Consortium will host speakers like Mr. Ashok Dash – Director, Microsoft and Mr. Madan Mohapatra – Head of Customer Strategy, Future Group.
The panel for ASHWAMEDH, hosted by the Operations Society, will include Mr. Sumit Dhingra – COO, Aeropostale and Mr. Ramesh Chembath – Business Head, Usha International along with many others.
KSHITIJ, organised by the Human Resource Association will be held on 20th August, 2016. They have merged a Pan India SIP Competition in association with NHRDN, with the conclave, thereby it is a full day event. Mr. Satyadeep Mishra – Head HR, Digital Services, Reliance Jio will be one of the speakers.
The conclave FINOMICS scheduled on 6th August will have Mr. Vikram Gupta – Founder & Managing Partner, IvyCap Ventures Advisors Private Limited and Mr. Soundararajan V – Business Development Head, Bombay Stock Exchange, amongst many others discuss the topic "Start-up Funding & Valuation Bubble: Is it the Beginning or the End?".
The marketing conclave MERCATIQUE scheduled on 7th August is centred on the theme "Driving Customer Loyalty in Digital Age ". The panel discussions will involve Mr. Sujoy Chakrabarti – Vice President, TATA Sky Ltd, Mr Bidyut Nath – Customer Loyalty & Analytics Head, Titan Industries, and Ms Madhu Joshi – Director, Marketing & Communication,Hotel Formule 1 Pan India ,Accor Hotels. Both of these conclaves will address the popular trends in the fast-evolving Indian as well as global markets.
On the other hand, the XUB Sustainability Summit 2016 will be held on 11,12,13 August on the theme 'Energy, Peace and Global Governance'. Also, ABHIVYAKTI, the rural management conclave is scheduled on 21st August when Ms. Neelima Burra – CMO, Cargill Foods and Mr. Saurav Banerjee – Country Director, Room to Read along with many others will address the topics 'Tapping Opportunities at the Bottom of the Pyramid' and 'How Third Parties Can Improve CSR Process'.
The last conclave ENVISION, scheduled on 27th August will have speakers like Mr. Debasis Bal – Senior Director, Fidelity Investments, Mr. Sashikant Mohanty – Region Practice Head Asia Pacific and Japan, HP enterprise, Mr. Piyush Kumar Chowhan – VP and CIO, Arvind Lifestyle Brands Limited, Mr. Sourav Dutta, – Target Corporation and Mr. Sourabh Parikh – Sophos will address the topic 'Means of disruptive innovation with more emphasis on Technology'.
COMMUNIQUE, the conclave hosted by the Media and PR cell will be held on 7th August. Award-winning journalist Rana Ayyub and A.S. Panneerselvan, the Readers' Editor of 'The Hindu' along with many others will address the topic 'Ethics in Media'.
Clearly, XIMB has kept in mind that in attempts to survive in an increasingly competitive market one cannot ignore holistic sustainable development for the future of the self as well as society. Keep an eye out for updates from these events online!
For more information on these conclaves, check out their pages below.