Need a barometer for people's thoughts, feelings and emotions about what's happening in the world? Just take a look at Twitter – that aggregator of popular opinion, one tweet at a time. We did the same this Monday with #PerkyTweets and the results are listed below for all to see. No event, happening or pop culture trend is hidden from the all seeing eyes of this social networking site. Salman Khan's acquittal in the black buck case obviously finds a place in this week's selection, and so do the current crowd favourites Prisma and Pokemon Go. Check them out!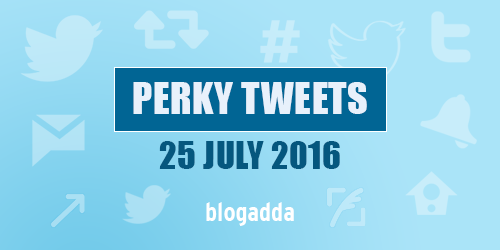 *On Twitter*
Username: Khaleesi – Mother of Dragons. Hell yeah.

*Real Life*
Aaaaaaaahhhh mummyyyy chipkalllliiii

— Poonam Khatri (@poonamkhatri) July 20, 2016
So both the heroes of 2002 had issues with black bucks, one killed them and the other couldn't bring them back from Swiss banks.

— Rofl Gandhi निंदनीय (@RoflGandhi_) July 25, 2016
BMC is like a shitty Santa.
"We want functional roads!"
"How about some penguins?"
"Roads. Now."
"Have you seen their beaks?"

— PT (@peeteeonyou) July 23, 2016
All jokes are okay, but immigration jokes kind of cross the line.

— ffsAaradhya (@ffsAaradhya) July 21, 2016
1995: Get up early. Do some exercise. Start your day fresh.

2016: Get up early. Check Twitter and Fb then sleep again…

— Ketumaan (@k2maan) July 18, 2016
Sometimes I wonder if we are commenting on actual events or just terribly written headlines & news stories about actual events.

— Ashok (@krishashok) July 25, 2016
Founder of Prisma App can be called Prismapitamah….!

— Khushamtweet! (@XitijNanavaty) July 21, 2016
By far, the most comfortable way to travel in local trains is by chopping of your hands and peacefully boarding the handicapped compartment.

— Neeraj (@IngeniousRetard) July 22, 2016
Help! How to disable the phone feature in phone to save battery for Pokémon Go?

— mihir (@mihirmodi) July 23, 2016
She:how was your day???
He:humidity 56%, wind e 4mph,
chance of rain 55%

*blocked again for week*

— ☆THAT GUY☆ (@Woh_ladka) July 25, 2016
LOL, ROFL, and then think. This is the effect that these tweets are supposed to have on you. Tell us which tweets you found the best, and add your own in the comments section below! Even better, submit your own here with #PerkyTweets or submit it here and see your tweet here next week!
Here's a quick round up of India's funniest Tweets last week!