The wind in your face, the sweat dripping down your face, and the tap-tappity-tap of your feet rhythmically hitting the ground. There is no greater rush than running and feeling the adrenaline pumping through your veins. There is also the added benefit of calorie burn and toned legs. If you are a blogger who is also interested in fitness then here is the perfect opportunity for you.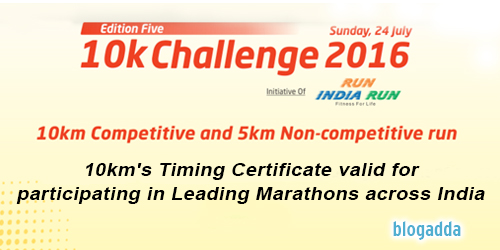 RunIndiaRun is hosting a 10K Challenge on the Sunday, 24th of July at JIO Garden, Bandra Kurla Complex, Mumbai. This is the 5th edition of the event and is powered by The Wadhwa Group. BlogAdda is happy to be the blogging partner of this challenge. This is also the first time that the organizers have introduced a 5K category in order to encourage first time runners. While there are no competitive prizes for the 5K, all participants will get a finisher medal.
Alternatively, the 10K is divided into 8 different categories of participation, with the prizes going to the top 6 winners in each category. The timing will be marked with the latest RFID timing Chip technology for accuracy and the runners will be given a timing certificate that will be valid for participating in leading marathons across India.
If after reading this your heart is pumping and you are already gearing up for a workout, then you are the perfect person to cover this magnificent event. This would be a great opportunity for any blogger to witness an event of this magnitude; to spend a Sunday among runners, fellow fitness enthusiasts, and winners. So, don't miss out on this exclusive opportunity by BlogAdda. Not just that, there is also a goodie bag at the event with exciting vouchers from huge brands with your name on it.
Event Details are as follows:

Date: July 24th, 2016
Venue: Jio Garden, Bandra Kurla Complex
For more information, visit the Run India Run website.
If you're interested, get in touch with us at bavity@blogadda.com at the earliest, because we have limited slots and limited time available. Run!