Before we had scores and tests and salary slips , we had dreams and desires. What we want to be, what we want to do, where we want to go, and so much more. Then there are also those aspirations and fantasies that we secretly harbour in our hearts but never share with anyone. Yet these are never less important than the other ones, in fact some of desires are even more important than the logical ones we tell others. These are the ones that we truly want, the ones that we would love to fulfill first, if given the chance.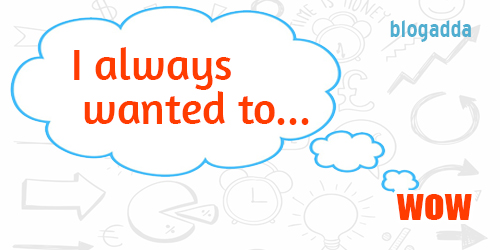 The WOW prompt for the week is – "I always wanted to…"
However, as it always happens, things get in the way. Dreams always need to be put on hold in order to fulfill our responsibilities. Such is life. We all have dreams that were left unfulfilled. What if that need not be the case anymore? What if you were given the chance to fulfill your one true desire, the one you always wanted to but never got the chance to?
Take your dream and multiply it by a hundred. Don't just travel the world, take a tour of a distant galaxy. Don't just dream of being a CEO, become a superhero. Give us your wildest unfulfilled dreams and imagine a world where you could finally fulfill them. Open up your hearts and let your unbridled dreams ride into the imaginary unknown. There's no longing too childish and no wish too unattainable. The only important thing is what you want to do.
And, here's another twist. WOW us with your blog posts and the top three posts will get free copies of books. So, don't miss out on this chance!
Bloggers are requested to add the mandate line in their post and submit their entry through the submission form for their WOW entry to be considered valid. Remember, you have time only till Sunday midnight to submit your blog posts and have a chance to get the WOW badge!
Include this code:
'This post is a part of Write Over the Weekend, an initiative for Indian Bloggers by BlogAdda.'
Good news! There is now an easier way to submit your WOW entries, so just click on the submission link below for your WOW entry to be considered valid.

Every weekend, we give creative writing prompts for you to write blog posts. Hope you enjoy our creative writing inspiration for this week. 🙂