Twitter stopped being a social networking site long ago, transforming into a news and opinion website due to its immediacy and use of hashtags. It is the first pit stop for anyone looking for updates on current affairs, and more importantly, the Twitterati's take on what's happening in the world. We at #PerkyTweets have our ears to the ground too, as we look out for tweets that might have slipped from your attention. So here it is, this Monday's fresh catch of the best tweets from India.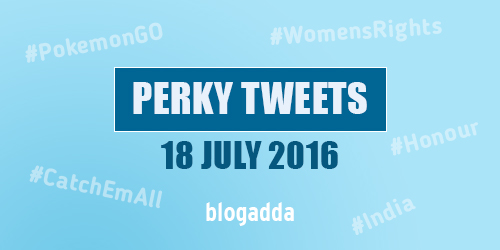 Papa: Kitne Pokemon pakde total ?

Me: umm .. 37 so far

Papa: Sharma ji ke bete ne 99 pakde hai. Sharam kar. #CatchEmAll

— nin (@NautankiNinja) July 14, 2016
UNESCO declares that UNESCO doesn't declare anything

— Binary Baba™ v3.1 (@0__1) July 12, 2016
Actually Dronacharya asked Eklavya to make Aadhaar as gurudakshina. Eklavya chose to cut his thumb off instead.

— Eggamind (@Stupidosaur) July 13, 2016
"Dilbar mere kab tak mujhe aise hi tadpaaoge" – Me to unopened buffet stall in a marriage function

— Tiilooo (@CineMaakiKasam) July 13, 2016
*Meanwhile in Pakistan*
Girl- i wanna be a famous model.
HR- you're selected, prepare yourself for a shoot.
Girl- *wears bulletproof jacket*

— Swagshank (@zZoker) July 16, 2016
If Sanjay Dutt is not shooting for the next Munna Bhai, Tushar Kapoor for Golmaal and Abhishek Bachchan for next Dhoom, what are they doing?

— gєntlє gíαnt (@iKunaal) July 18, 2016
Don't make fun of your parents for not understanding technology while you still have to google how to make a soup.

— Dead Mau5hi (@AdvancedMaushi) July 14, 2016
Press to Modi: Sir, Why do you travel so much?

Modi: pic.twitter.com/2G5WjE81xk

— NLC (@chichorapan) July 13, 2016
Dear Qandeel's brother, the world will remember you by her name and not yours.

— andar ka kutta (@hawashmi) July 16, 2016
My friend just found a new pokemon in his office, it yelled "YOU'RE FIRED"#PokemonGo

— pk (@PrathamOfficial) July 17, 2016
Did you like this week's edition of #PerkyTweets? If you want to do your bit to perk up people's lives, send your tweet here with #PerkyTweets or submit it here so other people can see your brilliance on Twitter! We gotta catch 'em all, too!  🙂
Here's a quick recap of India's wittiest and funniest Tweets!