Click Asia Summit 2016 was an experience designed to give attendees and industry folk a glimpse into the future and the technology that will define said future. Keynote speakers and panelists spoke of disruptive ideas in the digital space that will change the way content, marketing and experiences will change in the foreseeable future. We at BlogAdda wanted more from the brilliant speakers, which is why we got exclusive tête-à-têtes with some of them, so that you can benefit from their ideas and experience. Watch the videos below and up your digital knowledge!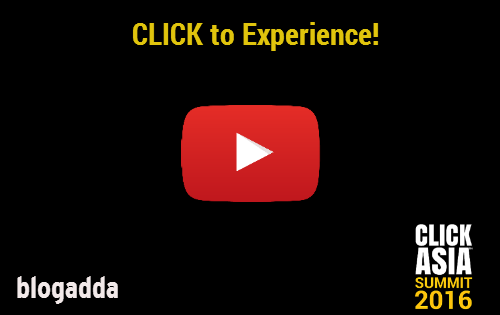 1. Robert Scoble, entrepreneur in Residence at UploadVR and legendary tech blogger spoke of the technological advancements that excited him the most, how they can be used by content creators to their advantage, the death of privacy, and sci-fi movies! Watch his exclusive interview below.
2. Ryan Bonnici of Hubspot decoded his Click Asia Summit 2016 talk for us, and gave some amazing hacks that can redefine your view of content marketing, or just good marketing as he likes to call it. Watch the video to know what he thinks of viral content, videos and to get some exclusive tips that come from his experience.
3. Satya Raghavan, Head of Content at YouTube India is the best person to ask for tips about creating and sharing videos and how to be successful at vlogging. This is exactly what we did at Click Asia Summit 2016 – quiz Satya about the trends in videos and how they can be used to your advantage. You're welcome
4. Ayal Steiner is MD Asia Pacific at Outbrain. He is also a mythbuster who rids the world of misconceptions about content and performance marketing. We spoke to Ayal about discovering good content, and how you can use data and good content to reach more people and get your message across.
5. Actor par excellence Vrajesh Hirjee was at Click Asia Summit too, which by his own admission is odd as he calls himself 'technologically challenged'. Still, he had some great thoughts about how technology is changing the way we create and share content, and also how the more things change, the more they remain the same.
These were the amazing insights that we got through Click Asia Summit 2016. We hope you enjoyed the videos and will apply some of this expert advice to become better bloggers, content creators and game changers!