How many of us swoon over that one lady we can't imagine our lives without? Well, we know which person pops up in most people's heads first – Mom. So it's no wonder that with Mother's Day knocking at our door, we must bundle up all the love we have and pen a WOW post for our beautiful mommies.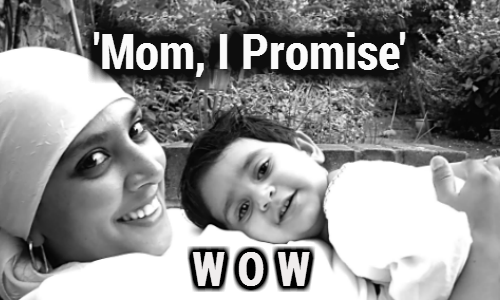 This week's WOW prompt is – 'Mom, I Promise'
In the balance sheet of life, the Give' side of mothers is always overflowing, as opposed to the Take' side, which is almost empty. How can we ever repay a person who does so much for so little in return? Promising to do something or give her something that she really wants would be a good start, right?
'Mom'. Isn't it the sweetest word ever on this planet? A mere mention of her name brings a whole ocean of emotions to our hearts and a smile on our faces. From being toddlers to being brainy adults, she will always be our guardian angel. No matter what we do and how much we bother her with our carelessness or habits, our mother is always the one to accept and love us unconditionally. Her constant nagging and scolding is often taken with a pinch of salt, because we know know she'll protect us even we don't behave like ideal kids.
So this Mother's Day, don't just rush out to buy a picture mug or a thank you card. Instead, make her a promise you'll keep forever. It could be anything, that you will call her frequently or that you won't bicker about what she's cooked. You know your mom the best, so we trust that you'll be ready with the idea of what'll make her the happiest. She will never ask for anything beside your well being, so why not give her a pleasant surprise with your promise? Today, say 'Mom, I Promise' and make it come true. Create a unique post as a thank you note for your mother. Don't forget to send it to us before Sunday midnight, just as Mother's Day ends!
Bloggers are requested to add the mandate line in their post and submit their entry through the submission form for their WOW entry to be considered valid. Remember, you have time only till Sunday midnight to submit your blog posts and have a chance to get the WOW badge!
Include this code:
This post is a part of Write Over the Weekend, an initiative for Indian Bloggers by BlogAdda.
Good news! There is now an easier way to submit your WOW entries, so just click on the submission link below for your WOW entry to be considered valid.

Every weekend, we give creative writing prompts for you to write blog posts on! Hope you enjoy our creative writing inspiration for this week. 🙂
All those who are featured in WOW can now flaunt the WOW badge on your blog. Download your badge now!