They say that the beauty of motherhood is incomparable. The moment her pregnancy is confirmed, a woman's life changes forever. For that's the precise moment when she becomes a mother – a title she will proudly wear as a crown for the rest of her life. It's the beginning of a journey that will last a lifetime. A journey that will bring new and unexpected changes to her body and self. And getting to meet this little person who is all hers, before anyone else, is a privilege she cherishes so dearly. To celebrate the amazing journey that a woman embarks during those 9 months, BlogAdda in association with Marico Bio Oil bring you the #YummyMummy weekend blogging activity.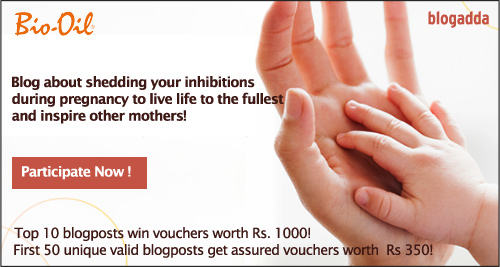 The journey of a pregnant mother is dotted with so many new experiences, from being pampered and taken care of, to connecting with her husband on a whole new level. It's that time in her life when she does everything to make sure her unborn child grows up in the perfect environment. However, during this period, a woman's body goes through a multitude of changes; some that have leave her amazed, and others that may have her feeling inhibited and conscious.
Women being the multitaskers that they are, no longer overlook their health and needs in looking after their unborn child. They exercise, eat right, stay fit and continue to celebrate themselves! We want to celebrate this new yummy version of motherhood. Blog about shedding your inhibitions during pregnancy to live life to the fullest and inspire other mothers! In your blog posts, we'd love for all you mothers to write about your pregnancy journey, and how you lived those nine months to the fullest, free of all inhibitions and worries about your changing body! We're sure your story will inspire expectant and future mothers to live life queen size! In short, we want you to blog about your #YummyMummy pregnancy journey from the first time you received the good news to the minute your little angel was born, celebrating your baby and yourself every step of the way!
Prizes:
The top 10 blog posts win vouchers worth Rs. 1000 each!
The first 50 unique entries get assured vouchers worth Rs. 350 each!
Click on the button below to submit your entries for the #YummyMummy blogging activity!
Mandates for the activity:
The word limit for every blog post is a minimum of 400 words.

This activity is open only for Indian bloggers.

Please include the line, "I'm writing about my wonderful journey of pregnancy for the #YummyMummy blogging activity at BlogAdda

in association with Marico Bio Oil."

Only blog posts submitted through

this form

will be considered valid.

The last date for submission of this blog post is

midnight, 9th May 2016.

One blogger can write a maximum of 2 blog posts for this activity.
Make this Mother's Day special by reminiscing about that exciting time when the world revolved around you and the fragile gem inside you! Remember what an amazing feeling it was to take your baby to work everyday even before anyone had met her/him – like it was just your little secret? Those pregnancy cravings that had hubby dearest on his toes? Not to forget the giggly excitement from family and friends and the thoughtful gifts that everyone brought to the baby shower and wearing the cutest pregnancy outfits. We want to hear all about them! 
Bio Oil has taken the lead in getting expectant mothers to shed their inhibitions by inviting them to walk the ramp at their fashionable best. Being a mother is the greatest honour and you deserve to enjoy every minute; that's why we urge you to keep your inhibitions at bay all through your pregnancy and celebrate the #YummyMummy you are!