India is witnessing a historical wave of budding entrepreneurs like never before. With opportunities promising to give a future to students and professionals, the brimming ideas are not only transformative but also redefining the gravity of traditional entrepreneurial norms. Conquest – BITS Pilani's launchpad for StartUps comes as a platform for these ideas and young businessmen. If you have an idea, then that is all that can define your brand and/or business.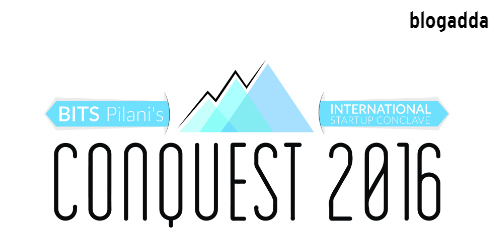 "Conquest, BITS Pilani's International Startup Challenge, is Back". Get ready to network with the most curious minds of the country.
So what is Conquest >
Conquest, BITS Pilani's International Startup Challenge, is back again with its twelfth edition. Conquest is an exemplary platform for emerging startups to step to the fore and skyrocket guided by some of the most proficient mentors of the country. It offers incubation opportunities, networking sessions with industry leaders, funding opportunities and equity ­less cash prize. Conquest is simply a perfect launchpad for every groundbreaking idea! This year, Conquest eyes the so far untapped startups in tier 2 and tier 3 cities of the country with immense entrepreneurial talent and provides them an opportunity to be on equal footing with ventures across the globe. Furthermore, Conquest has widened its outreach in Asia with its incubation partners in all major countries. With a Cash Prize of INR 3,00,000, a million dollar worth startup resources, a dream open­ door pitching and knowledge enriching panel discussions, Conquest is a perfect launchpad for any budding entrepreneurs.
Conquest creates a near perfect atmosphere for Startups. A brand can look forward to launch itself in a grand way showcasing your identity in front of the most known names in the industry.
The Application process applying for Conquest 2016 is a fairly simple process. The participants are required to fill a form.
The Conquest Jury, a panel of investors, would be screening the applications based on various parameters listed in the form to shortlist Top 50 startups of India.
The semi­ finalists would get personalized mentoring across five ​major cities in India, wherein the teams will be offered to choose their own mentors. They would then update their profiles, the renewed ones being inclusive of the progress made since the registration period.
Finally, a networking lunch with prestigious industrialists and a pitching opportunity to the biggest VC firms in India would commemorate the Grand Finale, a star studded affair what with distinguished personalities from the business world present. A startup can find here everything that they may possibly require ranging from funding and networking to potential teammates and users.
Success Stories Over the years
Conquest has produced some of the best startups in India. The 10 finalists of the Conquest emerge out to be successful ventures with strong foundations. Gamezop, the Runner­up of Conquest '15, raised funding of 350,000 USD a month after the Finale. Gaurav and Yashash, the Agarwal siblings who founded Gamezop in 2015, have been featured in Forbes 30 under 30 this year. Talking about Conquest, Gaurav said, "We have a special relationship with BITS Pilani and Conquest. We have been at several events in the last 8 months, both in India and overseas, and can say with certitude that Conquest was one of the grandest. The team leaves no stone unturned to ensure class. If you are a serious startup, you have to try and get the spot at Conquest!"
ITraveller, the finalists of the previous edition, raised $100K immediately after the event following it up with a recent series­ A round of a million dollars. Conquest alumni include startups like PosterGully, GharPay (Acquired by Delhivery), Mobile Medics (Acquired by Piramal Healthcare), iViz Security and many such more.
Registrations for participation close on 20th April. For more details, visit Conquest